Find your 1.3 Liter engine
Flat Rate Shipping (Commercial address)
Up to 5 Years Unlimited Mile Warranty
Excellent Customer Support
Honda 1.3-liter-honda Engines Variations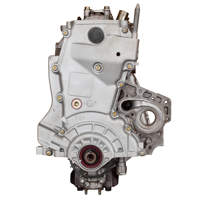 Best Price Guarantee
We will match or beat any
competitor's pricing.
ABOUT REMAN ENGINE
1.3-Liter Engines: Within the 1.3-liter engine size Honda produced the LDA series engines which are a mixture of hybrid engines based on the Honda L engine classification. These engines range from 1.2-liters all the way up to 1.5-liters in size and come in single overhead cam (SOHC) as well as dual overhead cam (DOHC) configurations.
LDA-MF3 - This 1.3 Honda engine for sale featured a single overhead cam (SOHC) cylinder head with 2 valves per cylinder resulting in 8 valves total since it is a 4-cylinder engine. It was used in the Honda Civic Hybrid from 2003-2005 and in the Honda Insight from 2009-2014. It was rated at 87 hp from the factory and included VTEC.
LDA-MF5 - This was a newer version of the LDA-MF3 engine that included a new stage 3 i-VTEC system. It produced 94 hp in its stock form and was used as a 2006-2011 Honda Civic Hybrid engine. This 1.3 Honda engine is also referred to as the LDA2 engine.
Speak With A Specialist Now
Habla con un especialista ahora
Use The Search Tool
Verify options in the form for a quick search