Find your 1.6 Liter engine
Flat Rate Shipping (Commercial address)
Up to 5 Years Unlimited Mile Warranty
Excellent Customer Support
Honda Acura 1.6-liter-acura-honda Engines Variations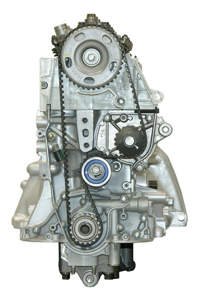 Best Price Guarantee
We will match or beat any
competitor's pricing.
ABOUT REMAN ENGINE
1.6-Liter Engines: Most of the 1.6-liter engines manufactured by Honda Motor Company were built within the D engine class. They are all inline 4-cylinder engines with a displacement of 1,590cc.
D16Z6 - Used as a 1992-1995 Honda Civic EX / EX-V / Si engine as well as a 1993-1995 Honda Del Sol Si engine. It was considered a performance 1.6 Honda engine and it produced 125 horsepower from the factory with a compression ratio of 9.2:1. This Honda engine was equipped with VTEC.
D16Y7 - The 1.6-liter Honda engine used in the 1996-2000 Honda Civic and the 1996-1997 Honda Del Sol. It produced 106 hp and was equipped with 4 valves per cylinder.
D16Y8 - This 1.6 Honda engine was used as a 1996-1997 Honda Del Sol Si engine as well as the 1997-2000 Acura EL engine and was a 16-valve inline 4-cylinder engine that produced 127 hp from the factory. It had 9.6:1 compression.
B16A2 - These were primarily SOHC engines but featured a DOHC upgrade around 1990 and were designed to take a more economical automobile approach. All of these 1.6 Honda engines came equipped with VTEC and were found in the 1992-2000 Honda Civic as well as the 1996-1997 Honda Del Sol. They produced 160 hp from the factory with an 8,000 rpm redline and had a 10.2:1 compression ratio.
B16A3 - It featured a VTEC system to improve the engine's volumetric efficiency, resulting in better performance at high rpm. These engines revved even higher and the redline was set at 8,200 rpm. It produced 160 hp and had a 10.2:1 compression ratio as well. These engines were used only in the 1994-1995 Civic Del Sol.
Speak With A Specialist Now
Habla con un especialista ahora
Use The Search Tool
Verify options in the form for a quick search