Find your 1.8 Liter engine
Flat Rate Shipping (Commercial address)
Up to 5 Years Unlimited Mile Warranty
Excellent Customer Support
Pontiac Toyota Chevrolet 1.8-liter-gm-chevrolet-pontiac-toyota Engines Variations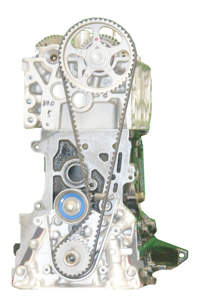 Best Price Guarantee
We will match or beat any
competitor's pricing.
ABOUT REMAN ENGINE
1.8 Liter Engines: General Motors Company has produced 1.8-liter inline 4-cylinder engines for years now and they all reside within the 1.0 engine family. There are 3 generations of these engines but the ones we will be discussing are all 3rd generation. In addition to the 1.0 engine family General Motors also used a 1.8-liter Toyota engine in some of their older vehicles that they produced.
1.8 EcoTec - This engine was known as the 2nd generation 1.8-liter engine within the General Motors 1.0 family of engines and was dubbed the EcoTec. It had a cast-iron block with aluminum cylinder heads and a dual overhead cam (DOHC) setup. The 1.8 Chevrolet EcoTec engine was used for sale as a Chevrolet Trax engine and a Chevrolet Astro engine.
LUW - This is considered a part of the 3rd generation of the 1.0-liter Family of General Motors engines. It is a 1.8-liter dual overhead cam (DOHC) Chevrolet engine equipped with secondary air injection. The LUW was used as a 2011-2016 Chevrolet Cruze engine and a 2012-2016 Chevrolet Sonic engine.
LWE - Another variation of the 3rd gen 1.8 Chevrolet engine. This engine has the same specs as the LUW but it also achieves PZEV status. The LWE was used as a Chevrolet Cruze engine as well as a Chevrolet Sonic engine.
2H0 - This engine was used solely by General Motors in the Chevrolet Cruze. It produced 140 hp and had a 10.5:1 compression ratio.
1ZZ-FE (Toyota) - This 1.8 Chevrolet engine for sale was actually manufactured by Toyota Motor Company and rebranded for use in General Motors vehicles. The Toyota 1ZZ-FE engine had a compression ratio of 10.0:1 and a horsepower rating of 120 hp. This engine was used by General Motors Company as a Chevrolet Prizm engine for sale and Pontiac Vibe engine for sale.
Speak With A Specialist Now
Habla con un especialista ahora
Use The Search Tool
Verify options in the form for a quick search