Find your 1.8 Liter engine
Flat Rate Shipping (Commercial address)
Up to 5 Years Unlimited Mile Warranty
Excellent Customer Support
Subaru 1.8-liter-subaru Engines Variations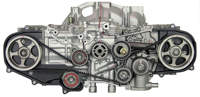 Best Price Guarantee
We will match or beat any
competitor's pricing.
ABOUT REMAN ENGINE
1.8-Liter Engines: The 1.8-liter engines produced by Subaru can be separated into two different groups, turbocharged and non-turbocharged. Subaru produced several widely popular overhead valve (OHV) and single overhead cam (SOHC) style 1.8-liter engines for their US vehicles.
EA81 - The engine was used in Subaru production vehicles from 1980-1994 as a Subaru Brat engine and Subaru Leone engine. This engine is essentially a stroked-out version of the fat case EA71 1.6-liter motor.
EA81T - This is the turbocharged version of the EA81 engine. It was not referred to as the "EA81T" by the factory, rather it was dubbed the "EA81T" to distinguish it from the non-turbocharged versions. This engine was commonly found in the 1983-1984 Subaru Brat.
EA82 - The EA82 motor was originally designed to be a 2.0-liter engine but was destroked to 1.8-liters before production started. This engine was used in the 1984-1994 Subaru Loyale and the 1985-1991 Subaru XT. This engine had 3 options for fuel supply: a single-point fuel injection system, a carburetor, or hydraulic lifters, and a multi-point fuel injection system (which was the most powerful).
EJ18 - This engine was the first 1.8-liter boxer motor produced by Subaru. It featured a compression ratio of 9.5:1 - 9.7:1, single-point fuel injection, and a single overhead cam (SOHC) design. It produced anywhere from 108 - 118hp from the factory and was used in the 1993-1999 Subaru Impreza.
Speak With A Specialist Now
Habla con un especialista ahora
Use The Search Tool
Verify options in the form for a quick search