Find your 2.0 Liter engine
Flat Rate Shipping (Commercial address)
Up to 5 Years Unlimited Mile Warranty
Excellent Customer Support
Plymouth Jeep Dodge Chrysler Eagle 2.0-liter-dodge-chrysler-jeep-plymouth-eagle Engines Variations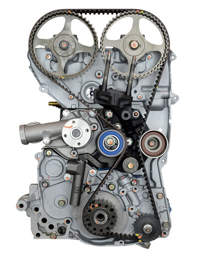 Best Price Guarantee
We will match or beat any
competitor's pricing.
ABOUT REMAN ENGINE
2.0-Liter Engines: The Chrysler 2.0-liter engine size was offered from 1995 all the way until 2016 and was found used in several Chrysler, Dodge, and Jeep vehicles that were in production within that time frame. The early 2.0-liter Chrysler engines came in single overhead cam (SOHC) and dual overhead cam (DOHC) options and held different variations within that realm. The newer Chrysler/ Dodge/ Jeep 2.0 engines were within the World engine class family of engines that were modeled after the Global Engine Alliance (GEA) engine design. All of the 2.0 engines in the World engine class had a dual overhead cam design (DOHC). It is to be noted that all of the single overhead cam (SOHC) 2.0 engines were labeled as a variation of the A588 Chrysler engine.
ECB - This 2.0-liter engine type was a single overhead cam (SOHC) engine that used a sequential multi-point injection system and utilized a 4-valve per cylinder design. The ECB 2.0 engine was found in the Dodge Neon, Plymouth Neon, Dodge Stratus, and Plymouth Breeze.


ECH - Also known as the Magnum version of the original A588 single overhead cam (engine), it featured higher compression of 9.8:1 and a higher horsepower rating of 150 hp. This engine featured aluminum cylinder heads, an upgraded cam, an upgraded header manifold, and an updated two-piece intake manifold. Due to all of the changes, this engine performed much better than the older SOHC engines and received better fuel economy ratings. This 2.0-liter engine was featured in 2001--2004 Dodge Neon RT and 2001-2004 Dodge Neon ACR.


ECC - This engine is the successor to the ECB and utilized a dual overhead cam design (DOHC) with a new aluminum cylinder head. This engine still used the cast iron block of the ECB and ECH engine variations but it also featured forged powder metal connecting rods, roller rockers, and slightly altered intake ports. Other than those changes, the engine is relatively the same as the other 2.0-liters that came before it. This engine was found in the 1995-1999 Dodge Neon / Plymouth Neon. It had a compression ratio of 9.6:1 and produced approximately 150 hp from the factory.


420A - The Chrysler 420A engine is also referred to as the Mitsubishi 420A engine since this engine was featured in both of the vehicle manufacturers' car models as well as their alternates Eagle and Plymouth. This engine was pretty much the same engine as the ECC-designated 2.0-liter Chrysler engine and shared nearly every component. On the Mitsubishi Eclipse and Dodge Avenger, the intake ports were facing the rear of the car but that is the only notable difference. The 420A engine was for sale in the 1995-1999 Mitsubishi Eclipse / Eagle Talon and 1995-1999 Dodge Avenger / Chrysler Sebring.


2.0 World - This is a dual overhead cam (DOHC) 4-cylinder engine that is rated at 158 hp and 151lb-ft of torque. This 2.0-liter Dodge engine for sale was used as a 2007-2012 Dodge Caliber engine, 2007-2017 Jeep Patriot engine, and the 2007-2017 Jeep Compass engine.
Speak With A Specialist Now
Habla con un especialista ahora
Use The Search Tool
Verify options in the form for a quick search