Find your 2.0 Liter engine
Flat Rate Shipping (Commercial address)
Up to 5 Years Unlimited Mile Warranty
Excellent Customer Support
Honda Acura 2.0-liter-honda-acura Engines Variations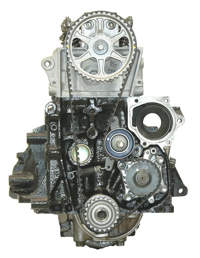 Best Price Guarantee
We will match or beat any
competitor's pricing.
ABOUT REMAN ENGINE
2.0-Liter Engines: The Honda 2.0 engine is featured in some of Honda's bestselling vehicles across their lineup, having manufactured and sold hundreds of them in America. Primarily, the engine was to replace earlier Honda models of the B and F series. This engine size is available in several models, each featuring its own unique modifications accommodating specific applications. The 2.0-liter Honda engine is produced in the A, B, F, R, and K engine classes so needless to say there are many different versions of this engine size within various Honda vehicles.
A20A3 - This engine was one of the first 2.0-liter Honda engines to receive fuel injection. It was used in the 1984-1987 Honda Prelude Si, 1986-1989 Honda Accord LX-i, and the 1986-1989 Honda Accord SE-i. It either had a compression ratio of 9.4:1 or 8.9:1 depending on the vehicle and year. This 2.0 Honda engine also produced anywhere between 98-120 hp.


B20Z2 - Used as a 1997-2001 Honda CRV engine, this was an inline 4-cylinder 2.0 Honda motor with a compression ratio of 9.4:1 and a horsepower rating of 150 hp.


F20C1 - Revised 2.0-liter Honda engine for use in the rear-wheel-drive 1999-2003 Honda S2000. Being a Honda S200 engine for sale, it came equipped with VTEC, a high compression ratio of 11.5:1, and a high horsepower rating of 240 hp at 8,300 rpm. It should be noted that this engine had a redline of 9,500 rpm which is one of the highest out of any stock Honda production vehicle.


R20A1 - Features a SOHC 16-valve functioning with aluminum as the material used in its block and cylinder head. This 2.0 Honda engine was used in the 2007-2011 Honda CR-V, and 2013-2015 Acura ILX. It was rated at 148 hp and had a compression ratio of 10.5:1.


K20A2 - This newer generation 2.0-liter engine manufactured by Honda Motor Company was used as a 2001-2006 Honda Civic Type R engine and a 2002-2004 Acura RSX Type S engine. This engine had 11.0:1 compression and 200 hp at 7,900 rpm. This was known as a performance 2.0 Honda engine for sale in Honda's high-end models.


K20A3 - This engine includes a dual overhead cam (DOHC) valve train to improve fuel efficiency and reduce friction via roller rockers on the cylinder head. This engine was detuned and only had a compression ratio of 9.8:1 with a horsepower rating of 160 hp at 6,800 rpm. It was used in the 2002-2005 Honda Civic.


K20Z1 - This was a performance 2.0-liter Honda engine that was used in the 2005-2006 Acura RSX Type S. It had an 11.0:1 compression ratio, 210 horsepower, and a redline of 8,100 rpm.


K20Z3 - Found in the 2006-2011 Honda Civic Si as well as the 2006-2011 Acura CSX Type S, this 2.0-liter Honda engine was used for their performance applications in those years. It had 11.0:1 compression and was rated at 197 hp in its stock form with its redline all the way up at 8,000 rpm.


LFA1 - Commonly referred to as the Honda Accord Hybrid engine for sale, this 2.0 Honda motor is a 16-valve dual overhead cam (DOHC) engine with 143 hp. It was used in the 2013-2017 Honda Accord Hybrid.
Speak With A Specialist Now
Habla con un especialista ahora
Use The Search Tool
Verify options in the form for a quick search