Find your 2.0 Liter engine
Flat Rate Shipping (Commercial address)
Up to 5 Years Unlimited Mile Warranty
Excellent Customer Support
Toyota Lexus 2.0-liter-toyota-lexus Engines Variations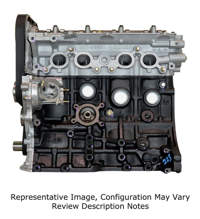 Best Price Guarantee
We will match or beat any
competitor's pricing.
ABOUT REMAN ENGINE
2.0-Liter Engines: The Toyota 2.0-liter engine found its way into a number of engine designs over the years at Toyota Motor Corporation. Primarily placed in straight four cylinder configurations, the 2.0-liter size powered many of the iconic R series type motors. Later issues included as part of an array of engine types in the 2.0-liter engine size range such as the venerable S series engine before later being included in such models as the AZ, TR, ZR, and M20A series engine families.
3S-FE - This 2.0-liter Toyota engine was used in Toyota production vehicles like the 1987-1992 Toyota Camry, Toyota Celica, 1987-2001 Toyota Carina, 1992-2002 Toyota Caldina, 1997-2000 Toyota RAV4, and the Toyota MR2. This Toyota engine has 16-valves (4 valves per cylinder) and produces approximately 126 hp.
3S-GE - This 2.0-liter inline 4-cylinder engine produced by Toyota Motor Corporation has a cast-iron block, aluminum alloy cylinder head, pent-roof combustion chambers, and a unique firing order. There are 5 generations in total of the 3S-GE engine and they were all utilized in the Toyota Celica, Toyota Corona, Toyota MR2, Toyota Caldina, Toyota RAV4, and the Toyota Altezza. It is to be noted that this engine is not the same as the GTE turbo edition that was produced after it which is famous for its use in the Toyota MR2
1AZ-FE - The 1AZ-FE engine is within the AZ Toyota engine family and is a 2.0-liter inline 4-cylinder engine for sale that was rated at approximately 150 horsepower for most of its life. It should be noted that later on in its development this engine received a D-4 direct injection system. This Toyota 2.0 engine was used as a 2000-2003 Toyota RAV4 engine.
8AR-FTS - This engine is a part of the Toyota AR engine family but still remains in the 2.0-liter displacement size and inline 4-cylinder configuration. The 8AR-FTS 2.0 Toyota engine received a turbocharger fitted to it from the factory along with direct fuel injection to ultimately produce 242 hp and 258 lb-ft of torque. This engine was used in the Lexus NX 200t, Lexus IS200t, and the Lexus RX200t.
Speak With A Specialist Now
Habla con un especialista ahora
Use The Search Tool
Verify options in the form for a quick search