Find your 2.2 Liter engine
Flat Rate Shipping (Commercial address)
Up to 5 Years Unlimited Mile Warranty
Excellent Customer Support
Pontiac Cadillac Chevrolet Oldsmobile GMC 2.2-liter-gm-chevy-pontiac-gmc-oldsmobile Engines Variations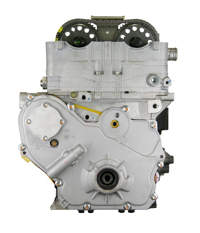 Best Price Guarantee
We will match or beat any
competitor's pricing.
ABOUT REMAN ENGINE
2.2 Liter Engines: These engines are a mix of naturally aspirated and turbocharged engines that began to present themselves into Chevrolet's production mix in 1990. The earlier engines were known as the Vortec 2200 engine while the latter engines were known as 2.2 EcoTec engines.
LM3 - The LM3 was the first of the 2.2L Chevrolet engines for sale as a GM 122 engine and was equipped with a throttle-body fuel injection system. The engine made 95 hp and appeared in the Chevrolet Cavalier, Chevrolet Corsica, and Chevrolet Beretta for two model years between 1990 and 1991.
LN2 - Introduced in 1992, this engine was upgraded to multi-port fuel injection which helped get better gas mileage and increased the horsepower to 110 hp. This was featured as a Chevrolet Beretta engine, Chevrolet Corsica engine, GMC Sonoma engine, Chevrolet Lumina engine, Chevrolet S10 engine, and Chevrolet Cavalier engine.
L43 - Primarily used a Chevrolet truck engine. The L43 featured flex-fuel and secondary air injection. It produced 120 hp and was featured as a 1998-2002 Chevrolet S10 engine.
L61 - First 2.2L version of the Chevrolet EcoTec engine. It has the higher-strength generation 2 block and was featured in the Oldsmobile Alero, Pontiac Grand AM, Chevrolet Cobalt, Chevrolet HHR, Pontiac Sunfire, Saturn Ion, Saturn L-series, Saturn Vue, and Chevrolet Malibu.
LAP - Included cylinder head upgrades, new ecu, new camshaft, and many more upgrades. This engine was naturally aspirated and was featured in the 2009-2010 Chevrolet Cobalt as well as its Pontiac alternative the 2009-2010 Pontiac G5 / Pontiac Pursuit.
LE8 - This Chevrolet engine for sale was merely the same engine as the LAP except it was E85 compatible and was only found in the 2009-2011 Chevrolet HHR.
Speak With A Specialist Now
Habla con un especialista ahora
Use The Search Tool
Verify options in the form for a quick search