Find your 2.2 Liter engine
Flat Rate Shipping (Commercial address)
Up to 5 Years Unlimited Mile Warranty
Excellent Customer Support
Subaru 2.2-liter-subaru Engines Variations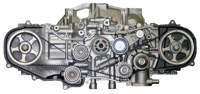 Best Price Guarantee
We will match or beat any
competitor's pricing.
ABOUT REMAN ENGINE
2.2-Liter Engines: Throughout Subaru's history they only ever produced a 2.2-liter engine within the EJ engine class. These engines came mainly in a naturally aspirated form, however, some were in fact turbocharged from the factory. It should also be noted that late in the production of the 2.2-liter Subaru EJ engine a lot of significant changes were made to the motor's configuration and those engines are referred to as 'Phase 2'.
EJ22 (original) - This is the original "phase 1" naturally aspirated 2.2-liter 4-cylinder boxer engine built by Subaru. It featured a single overhead cam (SOHC) style valvetrain, multi-point fuel injection, and a 9.5:1 - 9.7:1 compression ratio. It should also be noted that this engine also went under the EJ22E designation. This engine produced 135-137hp and was used in the 1995-2001 Subaru Impreza as well as the 1990-1999 Subaru Legacy and 1995-1996 Subaru Outback.
EJ221, EJ222, EJ223 (Phase 2) - The EJ221, EJ222, and EJ223 engines are known as the "phase 2" naturally aspirated 2.2-liter Subaru boxer motors. These engines underwent several changes including but not limited to a better flowing intake manifold, pistons coated with molybdenum to reduce the amount of friction, a new cylinder head design, and much more. These engines produced approximately 145hp from the factory and had a higher compression ratio of 10:1. These engines were used in the 1999 Subaru Legacy and 1999-2001 Subaru Impreza.
EJ22T - The EJ22T is a "phase 1" Subaru boxer engine that came with a turbocharger from the factory. This engine produced 160hp from the factory with an 8.1:1 compression ratio, 8.7psi boost pressure, closed deck block, internal oil squirters, aluminum heads, single overhead cam (SOHC) valvetrain, and a multi-point fuel injection system. This performance version of the 2.2-liter Subaru engine for sale was put in the 1991-1994 Subaru Legacy.
Speak With A Specialist Now
Habla con un especialista ahora
Use The Search Tool
Verify options in the form for a quick search