Find your 2.3 Liter engine
Flat Rate Shipping (Commercial address)
Up to 5 Years Unlimited Mile Warranty
Excellent Customer Support
Ford Lincoln Mazda Mercury 2.3-liter-ford-mercury-lincoln-mazda Engines Variations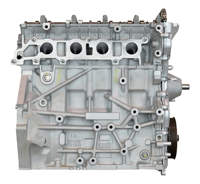 Best Price Guarantee
We will match or beat any
competitor's pricing.
ABOUT REMAN ENGINE
2.3-Liter Engines: The 2.3L 4-cylinder engine was introduced into Ford's lineup in 1974 and has lasted for many decades in various forms. Ford's 2.3 engine classes have been the overhead valve (OHV), turbocharged (OHV), and EcoBoost. The 2.3 EcoBoost is by far the most powerful 2.3 engine that Ford has ever offered and was first introduced into production in 2015.
LL23 - This engine was part of Ford Motor Company's Overhead Valve (OHV) class of 4-cylinder engines and was first put into production in 1974. The LL23 remained an important part of their vehicles all the way up to 1997 so it is a very common Ford engine. The 2.3 OHV came in naturally aspirated or turbocharged configurations as well as carburetor and fuel-injected versions. The Ford 2.3 OHV engine produced anywhere from 105-190 horsepower depending on if it was turbocharged, non-turbocharged, fuel-injected, or used as a carburetor. The turbocharged LL23 engines could be found in the 1979-1984 Ford Mustang Turbo, 1979-1984 Mercury Capri, 1980 Ford Fairmont, 1980 Mercury Zephyr, 1983-1986 Thunderbird Turbo Coupe, and the 1984-1986 Mercury Cougar. On the other hand, the non-turbo versions were most likely to be found used as a 1983-1997 Ford Ranger engine, 1983-1997 Mazda B-series engine, 1986-1987 Ford Aerostar engine, 1977-1982 Ford Courier engine, 1974-1980 Ford Pinto engine, 1974-1993 Ford Mustang engine, 1978-1983 Ford Fairmont engine,1974-1980 Mercury Capri engine, 1978-1983 Mercury Zephyr engine, 1983-1986 Ford LTD engine, and 1983-1986 Mercury Marquis engine.


Duratec 23 - This Ford 2.3 engine was a dual overhead cam (DOHC) inline 4-cylinder with a compression ratio of 9.7:1 and a horsepower rating of anywhere from 143-160 hp. The Duratec 2.3-liter engine was also known as the Mazda 2.3 L engine which also had the codes L3-VE, L3-NS, and L3-DE. This engine was produced in the 2005-2008 Ford Escape, 2001-2008 Mercury Mariner, 2001-2011 Mazda Tribute, 2003-2007 Ford Focus, 2006-2009 Ford Fusion, 2006-2009 Mercury Milan, 2002-2005 Mazda MPV, 2001-2011 Mazda B-series truck, and 2001-2011 Ford Ranger.


2.3 EcoBoost - Ford's 2.3 EcoBoost engine is an all-aluminum inline 4-cylinder turbocharged engine that has a horsepower rating of anywhere between 269-345 hp. It was featured in the 2015-2019 Lincoln MKC, 2020-present Lincoln Corsair, 2019-present Ford Ranger, 2016-2019 Ford Explorer, 2020-present Ford Explorer, 2021-present Ford Bronco, 2015-present Ford Mustang, and 2019-present Ford Focus ST.
Speak With A Specialist Now
Habla con un especialista ahora
Use The Search Tool
Verify options in the form for a quick search