Find your 2.3 Liter engine
Flat Rate Shipping (Commercial address)
Up to 5 Years Unlimited Mile Warranty
Excellent Customer Support
Pontiac Buick Chevrolet Oldsmobile 2.3-liter-gm-oldsmobile-pontiac-chevy Engines Variations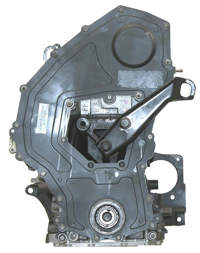 Best Price Guarantee
We will match or beat any
competitor's pricing.
ABOUT REMAN ENGINE
2.3 Liter Engines: The only 2.3-liter engines produced by General Motors were made within the Oldsmobile branch of the organization between 1987-2002. This engine was notably named the Oldsmobile Quad 4 engine because it had 4 valves per cylinder and was also an inline 4-cylinder engine.
LD2 - This version of the Oldsmobile Quad 4 engine was born in the 1988 model year with a 9.5:1 compression ratio and touted 160 hp from the factory. This Quad 4 engine was found in the 1988-1991 and 1995 Buick Skylark, 1992-1995 Oldsmobile Achieva, 1988-1991 Oldsmobile Cutlass Calais, 1990-1991 Oldsmobile Cutlass Supreme, 1988-1995 Pontiac Grand Am, 1995 Chevrolet Cavalier Z24, 1995 Pontiac Sunfire GT, and the 1990-1991 Pontiac Grand Prix.
LG0 - The version of the Oldsmobile Quad 4 engine for sale increased the horsepower rating to 180 hp and compression to 10.0:1. This engine was used in the 1990-1993 Chevrolet Beretta GTZ, 1994 Chevrolet Beretta Z26, 1989-1994 Pontiac Grand AM, 1989-1991 Oldsmobile Cutlass, and the 1992-1994 Oldsmobile Cutlass Achieva.
W41 - The W41 Quad 4 engine was the highest performance engine in the Quad 4 family of engines. These Oldsmobile engines had 190 hp from the factory and were only put into the 1991 Oldsmobile Cutlass and the 1992-1993 Oldsmobile Achieva.
Speak With A Specialist Now
Habla con un especialista ahora
Use The Search Tool
Verify options in the form for a quick search