Find your 2.3 Liter engine
Flat Rate Shipping (Commercial address)
Up to 5 Years Unlimited Mile Warranty
Excellent Customer Support
Honda Acura 2.3-liter-honda-acura Engines Variations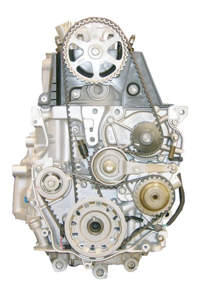 Best Price Guarantee
We will match or beat any
competitor's pricing.
ABOUT REMAN ENGINE
2.3-Liter Engines: The 2.3-liter four-cylinder engines produced by Honda come in 3 main engine families: F-series, H-series, and K-series. These engines were featured in a variety of different Honda production models. These engines run with 4-valves per cylinder with pentroof combustion chambers and some featured a revised intake manifold that allowed for greater airflow.
F23A1 - Also known as the big block single overhead valve (SOHC) engine featuring a solid iron open deck block and aluminum cylinder heads with a VTEC system. These 2.3 Honda engines had a 9.3:1 compression ratio and were rated at 150 horsepower. The F23A1 engine was used in the 1998-2002 Honda Accord and the 1998-2002 Acura 2.3 CL.


F23A5 - This is an updated version of the F23A1 Honda motor. It was used as a 1998-2002 Honda Accord engine. This 2.3-liter Honda motor had a low compression ratio of 8.8:1 and produced lower power of 135 hp.


F23A7 - This 2.3 Honda engine was basically the same as the F23A1 engine right down to the compression ratio of 9.3:1 and the 150 horsepower rating. It was found in the 1998 Honda Odyssey as well as the 1998-1999 Isuzu Oasis.


H23A1 - Derives most of its features from the F engine Ford family and features an increased stroke over the older H22 Honda engine. The H23A1 engine featured an aluminum block and cylinder head, 9.8:1 compression, and a horsepower rating of 160 hp. It was used in the 4th generation (1991-1996) Honda prelude.


K23A1 - Introduced in 2007, this engine was used in the 2007-2012 Acura RDX. It had a compression ratio of 8.8:1 along with a horsepower rating of 240 hp.
Speak With A Specialist Now
Habla con un especialista ahora
Use The Search Tool
Verify options in the form for a quick search