Find your 2.4 Liter engine
Flat Rate Shipping (Commercial address)
Up to 5 Years Unlimited Mile Warranty
Excellent Customer Support
Pontiac Buick Chevrolet GMC 2.4-liter-gm-chevy-oldsmobile-saturn-pontiac-buick Engines Variations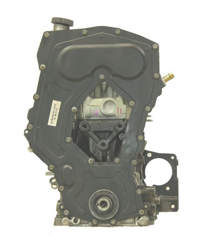 Best Price Guarantee
We will match or beat any
competitor's pricing.
ABOUT REMAN ENGINE
2.4 Liter Engines: This is the largest version of the Chevrolet EcoTec engines. 2.4 Chevrolet EcoTec engines were produced between 2006 and 2017. There was also a 2.4 Quad 4 General Motors engine that was produced by the Oldsmobile division that was featured in vehicles throughout the General Motors lineup.
LE5 - Naturally aspirated engine with variable valve timing on the exhaust and intake sides. Produced approximately 170 hp and was found in the 2006-2008 Pontiac G5, 2006-2009 Pontiac G6, 2006-2009 Pontiac Solstice, 2006-2009 Saturn Sky, 2006-2007 Saturn Ion, 2008-2009 Saturn Aura, 2008-2009 Saturn Vue, 2006-2007 Chevrolet Cobalt SS, 2008 Chevrolet Cobalt Sport, 2006-2008 Chevrolet HHR, and 2008-2012 Chevrolet Malibu.
LAT - This is the same engine as the LE5 but it received a different designation because it was used in the hybrid version of the General Motors vehicles that it appeared in. The LAT was used as a 2007-2008 Saturn VUE Hybrid engine, 2007-2009 Saturn Aura Hybrid engine, and a 2008-2009 Chevrolet Malibu Hybrid engine.
LE9 - E85 compatible variant of the LE5 that was produced in the 2009-2011 Chevrolet HHR and the fleet version of the Chevrolet Malibu.
LAF - Has upgraded features including a slightly different piston design as well as an increased compression ratio to 11.2:1. This engine appeared in the Chevrolet Equinox from 2010-2011, GMC Terrain from 2010-2011, Buick Lacrosse from 2010-2011, Buick Regal in 2011, Chevrolet Orlando from 2011-2014, and Chevrolet Captiva in 2011.
LEA - This 2.4-liter Chevrolet engine for sale in the Chevrolet Equinox from 2012-2017, GMC Terrain from 2012-207, Buick Regal from 2012-2017, Buick Verano from 2012-2017, and the Chevrolet Captiva from 2012-2017. It was essentially just the E85 compatible version of the LAF engine.
LUK - The only difference between this engine and the LAF is the fact that it comes with the assist system. The LUK General Motors EcoTec 2.4 engine was for sale in the 2012-2016 Buick Lacrosse, 2012-2017 Buick Regal, 2014-2014 Chevrolet Malibu ECO, and the 2014 Chevrolet Impala.
LD9 - This was the 2.4-liter version of General Motors Oldsmobile division Quad 4 engine. This engine featured 9.7:1 compression, sequential fuel injection, and 150 hp from the factory. This 2.4 Chevy engine was featured in the 1996-2002 Chevrolet Cavalier, 1996-2002 Pontiac Sunfire GT, 1996-2001 Pontiac Grand AM, 1996-1998 Oldsmobile Achieva, 1999-2001 Oldsmobile Alero, 1997-2000 Chevrolet Malibu, and 1996-1998 Buick Skylark.
Speak With A Specialist Now
Habla con un especialista ahora
Use The Search Tool
Verify options in the form for a quick search