Find your 2.4 Liter engine
Flat Rate Shipping (Commercial address)
Up to 5 Years Unlimited Mile Warranty
Excellent Customer Support
Nissan 2.4-liter-nissan Engines Variations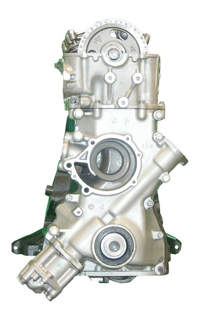 Best Price Guarantee
We will match or beat any
competitor's pricing.
ABOUT REMAN ENGINE
2.4 Liter Engines: When discussing 2.4-liter Nissan engines there are a few that come to mind but none more iconic than the Z24 engine used back when Nissan was still Datsun motors as well as the KA24DE engine which is known about in the aftermarket car enthusiast community. These Nissan engines were both inline 4-cylinder engines but there were many differences between the different engine variations.
Z24 (fuel injected and carbureted) The Z24 Nissan engine is a 2.4-liter engine produced by Nissan from 1983-1989 and it was used in the 1983-1986 Datsun / Nissan 720, 1986-1989 Nissan Hardbody Truck, 1986-1989 Nissan Pathfinder, and the 1987-1990 Nissan Nomad. This engine was originally carbureted but was eventually upgraded to fuel injection and was then dubbed the Z24i engine. The engine was rated at anywhere between 103-106 hp at the crank.
KA24DE This is one of the most popular 2.4 L Nissan engines used in the Nissan Xterra, which is one of the first Nissans to be developed and sold in the United States. In particular, it was used as a 2000-2004 Nissan Xterra engine, 1993-1999 Nissan Altima engine, 1998-2016 Nissan Frontier engine, and a 1991-1998 Nissan 240SX This engine had dual overhead cam (DOHC) cylinder heads, a 9.5:1 compression ratio, and came equipped with a timing chain instead of a belt. This 2.4 Nissan engine produced approximately 155 hp from the factory and is commonly used as a tuner engine by car enthusiasts that like to turbocharge them because of their innate ability to hand boost due to the lower compression ratio from the factory.
Speak With A Specialist Now
Habla con un especialista ahora
Use The Search Tool
Verify options in the form for a quick search