Find your 2.4 Liter engine
Flat Rate Shipping (Commercial address)
Up to 5 Years Unlimited Mile Warranty
Excellent Customer Support
Pontiac Toyota Scion 2.4-liter-toyota-scion-pontiac Engines Variations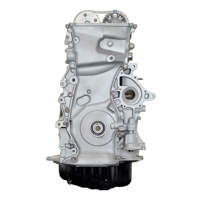 Best Price Guarantee
We will match or beat any
competitor's pricing.
ABOUT REMAN ENGINE
2.4-Liter Engines: The Toyota 2.4-liter engine formed the basis for one of the company's most iconic motors: the 22R (also known as the 22RE or 22R-E). The final iteration of the R series motor, which first began its production run in 1953, the 22R took the driving world by storm in the early 1980s. In addition to the iconic 22R engine, Toyota Motor Corporation also produced a 2.4-liter displacement engine in the RZ family of Toyota engines as well as the AZ Toyota engine family.
22R-E - The 22R engine is known as the million-mile motor by Toyota enthusiasts across the globe. This engine is famous for its seemingly unmatched reliability in almost any application. The Toyota 22RE engine was initially a carbureted 2.4 engine but received electronic fuel injection in 19821. The Toyota 2.4 22R motor produced anywhere from 97 to 135 hp depending on the year and version. The 22R engine also came in a turbocharged version that was dubbed the 22R-TE engine. Every 22R motor came equipped with a timing chain instead of a timing belt which many people think helped with its overall reliability. The Toyota 22R-E motor was for sale as a 1981 Toyota Corona engine, 1981-1985 Toyota Celica engine, 1991 Toyota Cressida engine, 1981-1995 Toyota Tacoma engine, 1984-1995 Toyota 4runner engine, and 1981-1997 Toyota Hilux engine.
22R-TE - The 22R-TE engine was the 2.4 turbocharged engine for sale by Toyota Motor Corporation. This engine is pretty rare as it was only produced between 1985-1988 and produced 135 hp in its stock form. The turbocharged 2.4 22R-TE engine for sale was used in the 1986-1987 Toyota 4runner as well as the 1985-1988 Toyota Hilux.
2RZ-FE - This Toyota 2.4 engine had a compression ratio of 9.5:1, produced 142 hp from the factory, and a 4 valve per cylinder dual overhead cam cylinder head (DOHC). This Toyota 2.4 engine was used as a 1995-2004 Toyota Tacoma 4x2 engine as well as a 1998-2004 Toyota Hilux engine.
2AZ-FE - This 2.4 Toyota engine was very common in the US market as it was used in the 2002-2009 Toyota Camry, 2009-2011 Toyota Matrix S, 2009-2010 Pontiac Vibe, 2009-2010 Toyota Corolla, 2002-2008 Toyota Solara, 2004-2008 Toyota RAV4, 2000-2007 Toyota Highlander, 2005-2010 Scion tC, and the 2008-2015 Scion xB. The 2AZ-FE engine had a 9.8:1 compression ratio and produced 160 horsepower.
2AZ-FXE - This 2.4 Toyota engine variation features Atkinson cycle technology and thus a high compression ratio of 12.5:1 which helps it produce 211 hp from the factory. This engine is used primarily for hybrid vehicles so it is fitting that it is used as a 2007-2011 Toyota Camry Hybrid engine and a 2010-2014 Lexus HS 250h engine.
Speak With A Specialist Now
Habla con un especialista ahora
Use The Search Tool
Verify options in the form for a quick search