Find your 2.5 Liter engine
Flat Rate Shipping (Commercial address)
Up to 5 Years Unlimited Mile Warranty
Excellent Customer Support
Jeep Dodge Chrysler 2.5-liter-dodge-chrysler-jeep Engines Variations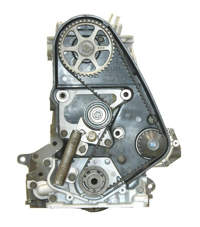 Best Price Guarantee
We will match or beat any
competitor's pricing.
ABOUT REMAN ENGINE
2.5-Liter Engines: The 2.5-liter engine offered in a few different Dodge and Chrysler vehicles came in V6 and inline-4 cylinder configurations during the time it was produced. The V6 engine was actually manufactured by Mitsubishi but used in a few Chrysler and Dodge vehicles while the inline-4 cylinder engine was originally manufactured by AMC and used in Dodge vehicles as well.
AMC 150 - The AMC 150 engine is a 2.5-liter (150 cubic inch) inline-4 cylinder engine that was put into the 1996-2002 Dodge Dakota, 1987-2002 Jeep Wrangler TJ / YJ, and the 1984-2000 Jeep Cherokee. For the first couple of years of production, these engines received a one-barrel carburetor. Then from 1986-1990, they were given throttle body fuel injection (TBI), and finally, from 1991-2002 the AMC 150 engine came for sale with multi-point fuel injection.


6G73 - The 6G73 V6 engine was manufactured by Mitsubishi initially and was used in the lineup for a couple of Chrysler Motor Corporation's vehicles in the late '90s / early 2000s era. This 2.5 V6 engine had a single overhead cam (SOHC) design with 3 valves per cylinder (24-valve) and was rated at 161 hp. The 6G73 was used as a 1995-2000 Chrysler Sebring engine, a 1995-2000 Dodge Stratus engine, and a 1995-2000 Dodge Avenger engine.
Speak With A Specialist Now
Habla con un especialista ahora
Use The Search Tool
Verify options in the form for a quick search