Find your 2.5 Liter engine
Flat Rate Shipping (Commercial address)
Up to 5 Years Unlimited Mile Warranty
Excellent Customer Support
Ford Lincoln Mazda Mercury 2.5-liter-ford-mercury-lincoln-mazda Engines Variations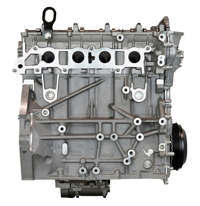 Best Price Guarantee
We will match or beat any
competitor's pricing.
ABOUT REMAN ENGINE
2.5-Liter Engines:
Duratec 25 (6-cylinder) - This 2.5 Ford Duratec engine for sale is also commonly referred to as the Mazda GY engine or Mondeo V6 engine. This was a transverse-style engine (for fwd applications) with dual overhead cams and 6-cylinders. This Duratec 2.5-liter engine had an all-aluminum block and cylinder heads. It was used as a Ford Contour engine from 1995-2000, a Ford Contour SVT engine from 1998-2000, a Ford Probe engine from 1993-1997, a 1999-2000 Mercury Mystique engine, and finally as a 1999-2002 Mercury Cougar engine.


LL25 - The LL25 2.5 Ford engine for sale was just simply a newer version of the LL23 inline 4-cylinder engine with 7mm more stroke. This Ford 2.5-liter engine is also known as the LRG-425 engine. It had a horsepower rating of 119 hp and was found in the 1998-2001 Ford Ranger as well as the Mazda B2500.


Duratec 25 (4-cylinder) - Has the same size and name as the old Duratec 2.5 6-cylinder V6 engine but this engine is about 10 years newer and is an inline 4-cylinder configuration instead of a V6. The newer Duratec 25 engine for sale was still all-aluminum but produced a maximum of 175 hp and was featured in the 2013-2013 Mercury Milan, 2010-2013 Mercury Mariner, 2009-2013 Mazda 6, 2009-2012 Mazda CX-7, 2009-2011 Mazda Tribute, 2010-2013 Mazda 3, 2012 Lincoln MKZ Hybrid, 2009-2019 Ford Escape, 2010-2013 Ford Fusion and Ford Fusion Hybrid, and finally the 2014-2018 Ford Transit Connect. It should be noted that this Ford 2.5 engine for sale was also widely known as the Mazda L5-VE engine. An Atkinson cycle variant was also produced of this engine that was only featured in the Ford and Lincoln hybrid models.
Speak With A Specialist Now
Habla con un especialista ahora
Use The Search Tool
Verify options in the form for a quick search