Find your 2.5 Liter engine
Flat Rate Shipping (Commercial address)
Up to 5 Years Unlimited Mile Warranty
Excellent Customer Support
Toyota Lexus Scion 2.5-liter-toyota-scion-lexus Engines Variations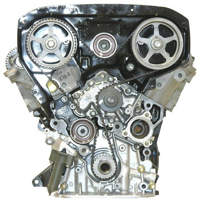 Best Price Guarantee
We will match or beat any
competitor's pricing.
ABOUT REMAN ENGINE
2.5-Liter Engines: The Toyota 2.5-liter engine belongs to a family of inline 4-cylinder engines which first entered into service in 2008 for the Toyota RAV4. Subsequent usage included such models as the Highlander, Camry, Venza, and Scion tC. Following its 2008 introduction, the AR engine series supplanted the older AZ series resulting in an 11% fuel economy increase over the older AZ engine type by the Toyota AR engines.
2AR-FE - The 2AR-FE 2.5 Toyota engine was for sale in the Toyota RAV4, Toyota Camry, Scion tC, and the Lexus ES250. This engine produced anywhere from 169-179 horsepower.
2AR-FXE - The FXE version of the 2.5-liter 2AR engine designates that it is an engine used for Toyota and Lexus hybrid vehicles. This engine includes additions like variable valve timing with intelligence (VVT-i), a compression ratio of 12.5:1, and horsepower rating of 154 hp. This engine was used in the Toyota Camry Hybrid, Toyota Avalon Hybrid, Lexus NX 300h, Lexus ES300h, Toyota RAV4 Hybrid, and the Lexus LM300h.
2TZ-FE - The TZ Toyota engine family includes water-cooled dual overhead cam (DOHC) inline 4-cylinder engines. The 2TZ-FE engine in particular has 9.3:1 compression, and a horsepower rating of 133 hp. It should be noted that this engine also had a supercharged version that had 8.9:1 compression and produced 158 hp.
2VZ-FE - This 2.5-liter engine produced by Toyota Motor Corporation has a 9.0:1 compression ratio and produces 159 hp. This engine was used in the 1988-1991 Toyota Camry and the 1989-1991 Lexus ES 250.
4GR-FSE - This is the only 2.5-liter engine manufactured by Toyota Motor Corporation to be in the V6 configuration. This engine was a 2.5-liter V6 engine with a compression ratio of 12.0:1 and an advanced D4 direct injection system. All-in-all, this Lexus 2.5 V6 engine for sale produced anywhere from 200-212 hp and was used in the 2005-2015 Lexus IS 250 as well as the 2012-2015 Lexus GS 250.
Speak With A Specialist Now
Habla con un especialista ahora
Use The Search Tool
Verify options in the form for a quick search