Find your 2.7 Liter engine
Flat Rate Shipping (Commercial address)
Up to 5 Years Unlimited Mile Warranty
Excellent Customer Support
Dodge Chrysler 2.7-liter-dodge-chrysler Engines Variations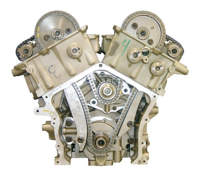 Best Price Guarantee
We will match or beat any
competitor's pricing.
ABOUT REMAN ENGINE
2.7-Liter Engines: The Dodge / Chrysler 2.7 engine model falls under the LH V6 engine specification. Its design features aluminum blocks and heads, 24 valves, dual overhead cams (DOHC), and other features necessary to maximize efficiency. The engine first hit the industry in 1998, and one of its significant components included a smaller bore and stroke than previous Chrysler V6 engine models.
2.7 LH - The Chrysler LH 2.7 V6 engine was for sale as a 2005-2010 Chrysler 300 engine, 2005-2010 Dodge Charger engine, and 2000-2010 Chrysler Sebring engine. For most applications, this 2.7-liter Chrysler engine produced around 189 hp and had a 9.7:1 compression ratio. It is to be noted that there were significant oil sludge buildup issues that haunted the engine throughout its lifespan so much so, that there was a class-action lawsuit filed against Chrysler Motor Corporation in 2009 for this exact problem.
Speak With A Specialist Now
Habla con un especialista ahora
Use The Search Tool
Verify options in the form for a quick search