Find your 2.7 Liter engine
Flat Rate Shipping (Commercial address)
Up to 5 Years Unlimited Mile Warranty
Excellent Customer Support
Toyota Lexus 2.7-liter-toyota-lexus Engines Variations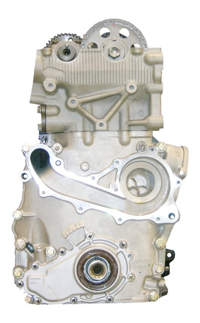 Best Price Guarantee
We will match or beat any
competitor's pricing.
ABOUT REMAN ENGINE
2.7-Liter Engines: The Toyota 2.7-liter engine was born of the RZ engine family, TR engine family, and AR engine family in particular. This series of Toyota engines was produced for heavier vehicles like trucks, vans, and SUV production. The 2.7 Toyota four-cylinder engine is still used in production today in the Toyota Tacoma.
3RZ-FE - The 3RZ-FE engine or 3RZ engine is a cast-iron block engine with aluminum cylinder heads combined with a compression ratio of 9.5:1. This engine featured twin chain-driven balance shafts, 4 valves per cylinder, and a durable timing chain. This Toyota 2.7 engine produced 150 hp and was used in the 1995-2004 Toyota Tacoma, 1996-2000 Toyota 4runner, 1994-1998 Toyota T100, and the 2001-2009 Toyota Land Cruiser.
2TR-FE - This Toyota 2.7-liter engine for sale falls under the TR engine family and is an inline 4-cylinder engine with dual overhead cams (DOHC), variable valve timing with intelligence (VVT-i), and is rated in most applications at around 158 hp. The 2TR-FE engine came in the 2005- present Toyota Tacoma and the 2005-present Toyota 4runner. It should be noted that this 2.7 Toyota engine was updated to a dual variable valve timing system in the 2015 model year.
1AR-FE - The 1AR-FE 2.7 Toyota engine is found in the 2009-2015 Toyota Venza, 2008-2019 Toyota Highlander, and the 2010-2015 Lexus RX350. This 2.7-liter Toyota engine produced anywhere from 182-187 horsepower.
Speak With A Specialist Now
Habla con un especialista ahora
Use The Search Tool
Verify options in the form for a quick search