Find your 4.1 Liter engine
Flat Rate Shipping (Commercial address)
Up to 5 Years Unlimited Mile Warranty
Excellent Customer Support
Buick Oldsmobile 252-cubic-inch-gm-oldsmobile-buick Engines Variations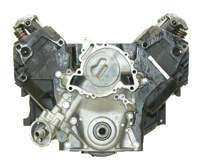 Best Price Guarantee
We will match or beat any
competitor's pricing.
ABOUT REMAN ENGINE
4.1 Liter Engines: The 252 cubic inch (4.1-liter) V6 engine manufactured by General Motors was simply a slightly larger bored out version of the 3.8-liter LD5 Buick V6 engine. This engine was only available from 1980-1984.
LC4 - This 4.1 Buick engine was a 4.1-liter V6 engine that produced 125 hp and 205 lb-ft of torque in its stock form. This engine was used as a Buick Riviera engine and Oldsmobile Toronado engine from 1980-1984.
Speak With A Specialist Now
Habla con un especialista ahora
Use The Search Tool
Verify options in the form for a quick search