Find your 3.0 Liter engine
Flat Rate Shipping (Commercial address)
Up to 5 Years Unlimited Mile Warranty
Excellent Customer Support
Jeep Dodge Chrysler 3.0-liter-chrysler-dodge-jeep Engines Variations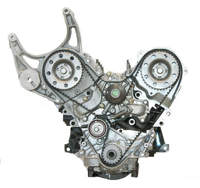 Best Price Guarantee
We will match or beat any
competitor's pricing.
ABOUT REMAN ENGINE
3.0-Liter Engines: Between Dodge, Chrysler, Jeep, and Plymouth there were a few different 3.0-liter engines used over the years. These engines range from the 3.0-liter V6 engines that Mitsubishi manufactured all the way to 3.0-liter ecodiesel engines manufactured by VM.
6G72 - The 6G72 engine was for sale in the 1987-2000 Dodge Caravan/ Plymouth Voyager and the 2001-2005 Dodge Stratus/ Chrysler Sebring. Although this 3.0-liter V6 engine was actually manufactured by Mitsubishi it was actually used in quite a few Dodge and Chrysler vehicles in the early 2000s. The Mitsubishi 3.0 engine came in 12-valve single overhead cam (SOHC), 24-valve single overhead cam (SOHC), and 24-valve dual overhead cam (DOHC) configurations. This engine was in production from 1986 all the way up until 2005 in the United States.


OM642 - This engine was a 3.0-liter all-aluminum 24-valve diesel turbo diesel engine manufactured by Mercedes-Benz. The 3.0 turbo diesel engine was used by Chrysler Motor Corporation as a Jeep Grand Cherokee engine from 2005-2010 and a Dodge Sprinter 2500 / 3500 engine from 2006-2010. This engine was rated at 221 hp and nearly 400lb-ft of torque in its stock form.


L630 EcoDiesel - The EcoDiesel engine for sale in Dodge and Jeep products by Chrysler Motor Corporation was used as an option for the 2014-2017 Jeep Grand Cherokee engine, the 2014-2016 Ram 1500 engine, and the 2014-2016 Ram Promaster 1500 / 2500 / 3500 engine. The L630 EcoDiesel engine had a dual overhead camshaft V6 engine design that featured 4 valves per cylinder, common-rail fuel injection, and a single high-performance turbocharger. The EcoDiesel produced 240 hp and 420lb-ft of torque.
Speak With A Specialist Now
Habla con un especialista ahora
Use The Search Tool
Verify options in the form for a quick search