Find your 3.0 Liter engine
Flat Rate Shipping (Commercial address)
Up to 5 Years Unlimited Mile Warranty
Excellent Customer Support
Ford Lincoln Mazda Mercury 3.0-liter-ford-lincoln-mazda-mercury Engines Variations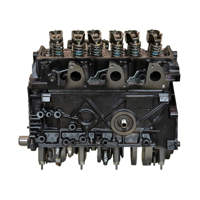 Best Price Guarantee
We will match or beat any
competitor's pricing.
ABOUT REMAN ENGINE
3.0-Liter Engines: Ford produced a variety of different 3.0-liter engines which were all in the V6 engine configuration. Ford's 3.0 V6 engines include naturally aspirated and turbocharged counterparts which span decades of use in Ford's various production vehicles.
3.0 SHO V6 - Not to be confused with the twin-turbo V6 that is in the newer Ford Taurus SHO. This was Ford's 3.0 V6 engine for sale starting in 1988 which was sold all the way thru 1995. It was an iron block engine with aluminum heads and a variable-length intake manifold. It was a high-revving V6 engine and made 220 hp in its stock form.
Vulcan 3.0 V6 - The Vulcan 3.0-liter V6 engine manufactured by Ford was an all-iron 60-degree V6 engine that Ford used in its vehicles from 1986 till 2008. This Ford 3.0 engine produced 140-155 hp and was found in the 1986-1997 Ford Aerostar, 1986-2007 Ford Taurus, 1990-1992 Ford Probe, 1991-2008 Ford Ranger, 1992-1994 Ford Tempo, 1995-2000 Ford Windstar, 1986-2005 Mercury Sable, 1992-1994 Mercury Topaz, and the 1994-2007 Mazda B3000.
Duratec 30 - The original Ford Duratec 3.0 V6 engine produced by Ford Motor Company was put into production in the 1996-2005 Ford Taurus, 2001-2005 Ford Escape, and 2005-2007 Ford Five Hundred, and Ford Freestyle, 2001-2005 Mercury Mariner, 2001-2005 Mazda Tribute, and the 2005-2007 Mercury Montego. The 3.0 Duratec engine for sale produced anywhere from 205 hp in some models to 240 hp in others. It is to be noted that this V6 engine was all aluminum by design.
Duratec 30 VVT - This is a version of the original Duratec 3.0 V6 engine which started in 2006 and lasted in production through 2012 that was equipped with variable valve timing (VVT), variable cam timing (VCT) and in some models, it even had E85 compatibility. This 3.0 Ford engine for sale produced anywhere from 221-250 hp and was used as a 2006-2012 Ford Fusion engine, 2009-2012 Ford Escape engine, 2006-2011 Mercury Milan engine, 2000-2005 Lincoln LS engine, 2006 Lincoln Zephyr engine, and a 2004-2008 Mazda 6 engine.
3.0 EcoBoost - This engine, dubbed the "Nano", is a twin-turbocharged gasoline direct-injection 3.0-liter V6 engine. This engine evolved from the 2.7-liter EcoBoost engine and can only be found in the 2020-present Ford Explorer Platinum, Ford Explorer ST, 2017-2020 Lincoln MKZ, 2017-2020 Lincoln Continental, as well as the 2020-present Lincoln Aviator. It produced between 365-400 hp depending on the year the engine was produced and what vehicle Ford put it in.
Speak With A Specialist Now
Habla con un especialista ahora
Use The Search Tool
Verify options in the form for a quick search