Find your 3.0 Liter engine
Flat Rate Shipping (Commercial address)
Up to 5 Years Unlimited Mile Warranty
Excellent Customer Support
Honda Acura 3.0-liter-honda-acura Engines Variations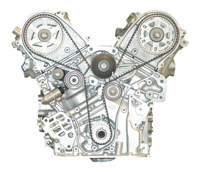 Best Price Guarantee
We will match or beat any
competitor's pricing.
ABOUT REMAN ENGINE
3.0-Liter Engines: Some of the most popular 3.0-liter engines produced by Honda Motor Company were in the J engine class. They are all 60-degree V6 engines specifically designed for transverse applications. Every J series Honda engine comes equipped with the VTEC variable valve timing (VVT) technology.
J30A1 - In production from 1997 all the way up to 2003, this 3.0 Honda V6 engine was for sale as a 1996-1999 Acura CL 3.0 engine and a 1997-2002 Honda Accord V6 engine. It produced 210 hp from the factory.


J30A3 - Found in the 1997-2002 Honda Accord V6 and the 1997-2003 Honda Odyssey, this engine was pretty much the same thing as the J30A1 engine.


J30A4 - Updated version of the previous 3.0 V6 Honda motors, it had an increased horsepower rating to 242 hp due to a better VTEC system and a higher 10.0:1 compression ratio. It was used as a 2003-2005 Honda Accord V6 motor.


J30A5 - Found in the 2005-2007 Honda Accord V6 and the 2003-2007 Honda Inspire, this engine produced 244 hp and had a compression ratio of 10.0:1 with a single overhead cam (SOHC) and i-VTEC equipped 3.0-liter V6 engine.


JNA1 - This 3.0-liter Honda engine was only for sale in the 2005-2007 Honda Accord Hybrid. It produced 255 hp with a 10.5:1 compression ratio.
Speak With A Specialist Now
Habla con un especialista ahora
Use The Search Tool
Verify options in the form for a quick search