Find your 3.0 Liter engine
Flat Rate Shipping (Commercial address)
Up to 5 Years Unlimited Mile Warranty
Excellent Customer Support
Infiniti Nissan 3.0-liter-nissan-infinity Engines Variations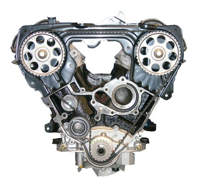 Best Price Guarantee
We will match or beat any
competitor's pricing.
ABOUT REMAN ENGINE
3.0 Liter Engines: Within the 3.0-liter engine size, Nissan Motor Corporation has produced a few different types of engines and some of them are very well known. These engines fall under the VE, VG, VQ, and VR engine classifications in turbocharged and naturally aspirated configurations.
VE30DE An iron block, dual overhead cam (DOHC), aluminum cylinder heads, and variable valve timing (VVT) equipped 3.0 Nissan engine. This 3.0-liter V6 Nissan engine was only produced from 1992-1994 and was used as a Nissan Maxima
VG30E This Nissan 3.0 engine produced 153 hp in most applications and received a variable intake plenum. The Nissan VG30E engine was used as a 1984-1989 Nissan 300ZX engine, 1985-1994 Nissan Maxima engine, 1987-1988 Nissan 200SX engine, 1990-1992 Infiniti M30 engine, 1990-1995 Nissan Hardbody Truck engine, 1990-1996 Nissan Pathfinder engine, and a 1993-1998 Nissan Quest
VG30DETT This was a twin-turbocharged variant of the 3.0-liter VG engine that was used for Nissan's performance applications. This Nissan twin-turbo 3.0 engine came equipped with an iron block, aluminum heads, twin turbos, twin intercoolers, and a valve timing control system (VTCS). It was rated anywhere from 208-300hp from the factory and had lots of upward tunability. This engine was used as a 1989-2000 Nissan 300ZX twin-turbo engine.
VQ30DE This engine was effectively a replacement for the Nissan VG 3.0 engine and featured an aluminum open-block design and variable valve timing (VVT) in some vehicles. This 3.0 Nissan engine was rated at 190 hp with 10.0:1 compression and was put into the 1995-2001 Nissan Maxima, and the 1996-1999 Infiniti I30.
Speak With A Specialist Now
Habla con un especialista ahora
Use The Search Tool
Verify options in the form for a quick search