Find your 3.0 Liter engine
Flat Rate Shipping (Commercial address)
Up to 5 Years Unlimited Mile Warranty
Excellent Customer Support
Toyota Lexus 3.0-liter-toyota-lexus Engines Variations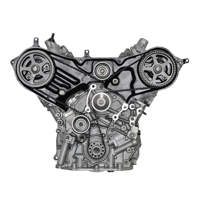 Best Price Guarantee
We will match or beat any
competitor's pricing.
ABOUT REMAN ENGINE
3.0-Liter Engines: The 3.0-liter engine displacement size for Toyota falls under a few engine families including the VZ Toyota engine family, MZ Toyota engine family, and the JZ Toyota engine family. These engines were produced from 1988 all the way up until the present day in different variations. The Toyota 3.0 engine is most known within the car enthusiast community for the Toyota Supra engine with the 2JZ engine designation.
3VZ-E - This 3.0-liter Toyota engine is a single overhead cam (SOHC) V6 cast-iron engine with a 9.0:1 compression ratio that produces approximately 160 horsepower out of the crate. This Toyota 3.0 V6 engine was used in the 1988-1995 Toyota 4runner, 1988-1995 Toyota Tacoma, 1992-1994 Toyota T100, and the 1990-1995 Toyota Hilux.
3VZ-FE - This 3.0 Toyota engine is the updated version of the previous 3VZ-E engine with aluminum dual overhead cam (DOHC) cylinder heads, forged steel connecting rods, and an all-new variable intake system dubbed (ACIS). This engine had a compression ratio of 9.6:1 and produced 185 hp at the crank. It was used as a 1992-1993 Toyota Camry engine and well as a 1992-1993 Lexus ES300
1MZ-FE - The MZ Toyota engine family introduced the 1MZ-FE as an all-aluminum engine (block and DOHC cylinder heads) in a 60 degree V6 design. This engine was much lighter than the previous 3.0 V6 Toyota engines and it performed better as well when it came to performance and fuel economy. This engine was used as a 1993-2002 Toyota Camry engine, 1993-2003 Lexus ES 300 engine, 1994-2004 Toyota Avalon engine, 1997-2002 Toyota Sienna engine, and a 1998-2003 Toyota Solara Furthermore, Toyota offered an upgraded version starting in 1998 that was only used in select Toyota and Lexus models which offered variable valve timing with intelligence along with an upgraded aluminum intake manifold and updated electronic throttle control. The updated 3.0 Toyota engine was used in the 1998-2003 Lexus RX 300, 2000-2004 Toyota Avalon, 2000-2003 Toyota Highlander, 2000-2003 Toyota Sienna, and finally the 2003-2006 Toyota Camry. Overall, the 3.0 Toyota V6 engine for sale produced somewhere between 183-210 hp depending on the year and the model that it was in.
Speak With A Specialist Now
Habla con un especialista ahora
Use The Search Tool
Verify options in the form for a quick search