Find your 3.0 Liter engine
Flat Rate Shipping (Commercial address)
Up to 5 Years Unlimited Mile Warranty
Excellent Customer Support
Plymouth Mitsubishi Dodge Chrysler Hyundai 3.0-mitsubishi-plymouth-dodge-chrysler-hyundai Engines Variations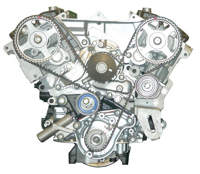 Best Price Guarantee
We will match or beat any
competitor's pricing.
ABOUT REMAN ENGINE
3.0-Liter Engines: Mitsubishi manufactured a couple of notable 3.0-liter V6 engines over the years. The two most widely used 3.0 engines produced by Mitsubishi are from the 6G7 and 6B3 engine classes with the 6G7 engines being the elder of the two.
6G72 - This is a cast-iron block 3.0-liter V6 engine manufactured by Mitsubishi that came in a few different configurations: 12-valve single overhead cam (SOHC) cylinder heads, 24-valve single overhead cam (SOHC) cylinder heads, finally 24-valve dual overhead cam (DOHC) cylinder heads. The 3.0 Mitsubishi engine for sale was used as a 1987-2000 Plymouth Voyager/ Dodge Caravan engine, 1988-1990 Dodge Raider engine, 1988-1993 Dodge Dynasty engine, 1989-1995 Dodge Spirit engine, 1990 Chrysler Town & Country engine, 1990-1993 Dodge Ram 50 engine, 1990-1998 Hyundai Sonata engine, 1990-1999 Mitsubishi 3000 GT engine, 1991-1996 Dodge Stealth engine, 1992-1994 Dodge Shadow engine, 1999-2003 Mitsubishi Galant engine, 2000-2005 Mitsubishi Eclipse engine, 2001-2005 Dodge Stratus engine, and a 2001-2005 Chrysler Sebring engine. This engine produced approximately anywhere from 142-210 hp in its stock naturally aspirated form. The turbocharged version of this engine was rated at 320 hp.


6B31 - The 6B31 engine is an all-aluminum alloy 3.0-liter 60-degree V6 engine equipped with 24-valve single overhead cam (SOHC) cylinder heads and Mitsubishi's variable valve timing (VVT) system dubbed MIVEC. This engine is used in the 2007-present Mitsubishi Outlander, 2010-present Mitsubishi Challenger, and the 2012-present Mitsubishi Pajero Sport. It should be noted that this engine underwent some changes in 2010 that brought the compression ratio up from 9.5:1 to 10.5:1 as well as the horsepower rating from 217 to 227 hp.
Speak With A Specialist Now
Habla con un especialista ahora
Use The Search Tool
Verify options in the form for a quick search