Find your 3.1 Liter engine
Flat Rate Shipping (Commercial address)
Up to 5 Years Unlimited Mile Warranty
Excellent Customer Support
Pontiac Buick Chevrolet Oldsmobile 3.1-gm-chevy-pontiac-buick-oldsmobile Engines Variations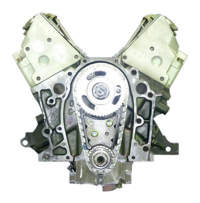 Best Price Guarantee
We will match or beat any
competitor's pricing.
ABOUT REMAN ENGINE
3.1 Liter Engines: This was a unique engine due to the fact that it is basically an exact replica of the 2.8-liter 60 degree Chevy engine. The only difference is that Chevrolet decided to increase the bore diameter of the exact same engine block which allowed for slightly more power and torque.
LG6 - This engine produced 120 hp and was developed for transverse and longitudinal uses. It was primarily used in the 1990-1995 Chevrolet Lumina, 1990-1995 Oldsmobile Silhouette, and 1990-1995 Pontiac Trans Sport.
LHO - The LHO was also produced for use in transverse and longitudinal applications but with this engine the two varied significantly. The transverse version had generation 1 block and heads whereas the longitudinal version had generation 2 block and heads. This engine was featured in the 1987-1989 Chevrolet Beretta, 1987-1989 Chevrolet Cavalier, 1987-1989 Chevrolet Celebrity, 1987-1989 Chevrolet Corsica, 1989-1993 Chevrolet Beretta, 1989-1993 Oldsmobile Cutlass Supreme, 1988-1991 Pontiac 6000, 1989-1993 Pontiac Grand Prix, and the 1991-1994 Pontiac Sunbird.
L64 - First 3.1-liter Chevrolet engine equipped with flex-fuel technology. This engine appeared solely in the 1991-1993 Chevrolet Lumina.
L82 - This engine included sequential fuel injection, aluminum heads, and a compression ratio of 9.5:1 which gave it 160 hp. This engine was featured in Chevrolet models from 1994-1999. It was sold as a Chevrolet Beretta engine, Chevrolet Corsica engine, Chevrolet Lumina engine, Chevrolet Malibu engine, and Chevrolet Monte Carlo engine, Buick Century engine, Buick Regal engine, Buick Skylark engine, Oldsmobile Achieva engine, Oldsmobile Cutlass engine, Pontiac Grand Am engine, and Pontiac Grand Prix engine.
LG8 - Included an updated intake manifold and emissions status tests. It had a slightly different tune and made approximately 175 hp. This engine was put into the 1999-2003 Chevrolet Malibu, 2000-2001 Chevrolet Lumina 2000-2005 Buick Century, and the 2000-2003 Pontiac Grand Prix SE.
Speak With A Specialist Now
Habla con un especialista ahora
Use The Search Tool
Verify options in the form for a quick search