Find your 3.2 Liter engine
Flat Rate Shipping (Commercial address)
Up to 5 Years Unlimited Mile Warranty
Excellent Customer Support
Jeep Dodge Chrysler 3.2-liter-gm-chrysler-dodge-jeep Engines Variations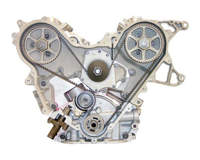 Best Price Guarantee
We will match or beat any
competitor's pricing.
ABOUT REMAN ENGINE
3.2-Liter Engines: The 3.2 engine for sale in various Chrysler, Dodge, and Jeep models vary a lot depending on which year and model referred to. When talking about the Chrysler 3.2 engine you could be referring to the 3.2-liter Pentastar engine, 3.2 single overhead cam (SOHC) engine used in the late 90's and early 2000s, or even the naturally aspirated and supercharged Mercedes-Benz engines that were used in the Chrysler Crossfire.
3.2 SOHC - The 3.2-liter single overhead cam (SOHC) engine was a part of the LH engine platform that Chrysler had at the time and it was rated at 225 hp. The 3.2 SOHC was used as a 1998-2001 Chrysler Concorde engine and a 1998-2001 Dodge Intrepid engine.


E32 / E32 ML - The E32 and E32 ML were engines that were used by Chrysler but were manufactured by Mercedes-Benz. The E32 engine was a naturally aspirated 3.2-liter engine while the E32 ML engine was a supercharged 3.2-liter engine. Both the 3.2 engines were V6 by design but the E32 ML had a lower compression ratio of 9.0:1 compared to the 10.0:1 for the E32. Chrysler strictly used the E32 engine as a 2004-2008 Chrysler Crossfire engine while the E32 ML was used as a 2005-2006 Chrysler Crossfire SRT-6 engine. The naturally aspirated E32 was rated at roughly 220 hp while the supercharged E32 ML was rated at 349 hp.


3.2 Pentastar - The Chrysler 3.2 Pentastar engine is only used in one model, the 2014-present Jeep Cherokee. The 3.2 Pentastar engine for sale keeps the same stroke length as the 3.6 Pentastar but has a smaller diameter bore by 5mm. This engine produces 271 hp and 239lb-ft of torque from the factory.
Speak With A Specialist Now
Habla con un especialista ahora
Use The Search Tool
Verify options in the form for a quick search