Find your 3.2 Liter engine
Flat Rate Shipping (Commercial address)
Up to 5 Years Unlimited Mile Warranty
Excellent Customer Support
Honda Acura 3.2-liter-honda-acura Engines Variations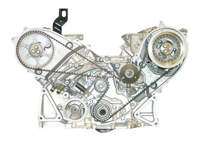 Best Price Guarantee
We will match or beat any
competitor's pricing.
ABOUT REMAN ENGINE
3.2-Liter Engines: Honda's 3.2-liter engines were manufactured under the J and C engine series. All of the C series engines were 90-degree all-aluminum V6 engines with a timing belt. The J series Honda engines were all 60-degree V6 configurations but still retained the all-aluminum engine design.
C32A - A single overhead cam (SOHC) 3.2-liter V6 engine, it produced 200 hp from the factory and was used as a 1991-1995 Acura Legend engine.


C32A6 - This was virtually the same engine as the C32A it was just renamed for use in the 1996-1998 Acura 3.2 TL. The C32A6 3.2-liter Honda engine also produced 200 horsepower.


J32A1 - This was the replacement for the 3.2-liter C series Honda engine. It featured the VTEC variable valve timing (VVT) technology and produced 225 hp. It was used as a 1999-2003 Acura TL engine, a 2001-2003 Acura CL engine, and a 1998-2003 Honda Inspire engine.


J32A2 - Equipped with a freer-flowing intake and exhaust system coupled with a more aggressive cam and better intake manifold allowed this 3.2 Honda engine for sale to produce 260 horsepower from the factory. It was used in the 2001-2003 Acura CL Type-S as well as the 2002-2003 Acura TL Type-S.


J32A3 - Found in the 2004-2008 Acura TL, this 3.2-liter Honda engine is the last version of the J32 series of Honda engines. It features aluminum alloy material and increased horsepower rating to 270 hp in 2004-2005. It should be noted that the horsepower rating dropped to 258 hp from 2006-2008.
Speak With A Specialist Now
Habla con un especialista ahora
Use The Search Tool
Verify options in the form for a quick search