Find your 3.3 Liter engine
Flat Rate Shipping (Commercial address)
Up to 5 Years Unlimited Mile Warranty
Excellent Customer Support
Dodge Chrysler Eagle 3.3-liter-chrysler-dodge-eagle Engines Variations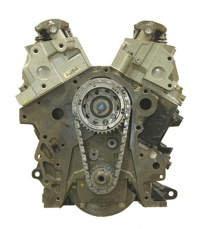 Best Price Guarantee
We will match or beat any
competitor's pricing.
ABOUT REMAN ENGINE
3.3-Liter Engines: Chrysler's 3.3-liter V6 engine was the first 60 degree V6 engine that they had ever produced. This engine had a bore and stroke of 3.66 inches by 3.19 inches and was initially rated at 150 hp during the first year of production in 1989. The Chrysler 3.3 engine remained an option among their vehicle lineups all the way through 2010 giving it a 21-year-long lifespan in Chrysler vehicles.
3.3 Chrysler V6 - This engine came with several different code designations depending on the vehicle it was in and the year it was produced including EGA, EGD, EGM, EGP, EGV, EGY, EGB, EHP, and EHZ. These different variations of the original 3.3-liter Chrysler V6 engine accounted for changes made to the engine over time including a new air intake, and a variable intake control system which all added extra horsepower and better fuel economy. The EGA variation was the first of the 3.3 Chrysler engine designations and it came with sequential fuel injection, forged steel connecting rods, a timing chain instead of a belt, and either a reinforced plastic or cast aluminum intake manifold. It was used as a 1990-1993 Dodge Dynasty engine, 1990-1993 Chrysler New Yorker engine, 1990-1993 Chrysler Imperial engine, 1990-2010 Chrysler minivan / Chrysler Town & Country engine for sale, 1993-1997 Chrysler Concorde engine, 1993-1997 Dodge Intrepid engine, and a 1993-1997 Eagle Vision engine.
Speak With A Specialist Now
Habla con un especialista ahora
Use The Search Tool
Verify options in the form for a quick search