Find your 3.3 Liter engine
Flat Rate Shipping (Commercial address)
Up to 5 Years Unlimited Mile Warranty
Excellent Customer Support
Infiniti Nissan 3.3-liter-nissan-infinity Engines Variations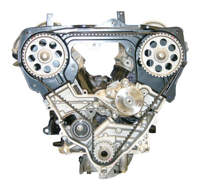 Best Price Guarantee
We will match or beat any
competitor's pricing.
ABOUT REMAN ENGINE
3.3 Liter Engines: Nissan Motor Corporation only ever produced a couple of variations in the 3.3-liter engine size. Both of them received an iron block and aluminum single overhead cam (SOHC) cylinder heads, and sequential fuel injection. These Nissan 3.3 engines came in naturally aspirated and supercharged versions.
VG33E This engine was originally built at the Smyrna, Tennessee engine production facility and in 1996 and produced approximately 170 hp with a compression ratio of 8.9:1. It was used as a 1996-2000 Nissan Pathfinder engine, 1997-2000 Infiniti QX4 engine, 1999-2004 Nissan Frontier engine, 2000-2004 Nissan Xterra engine, and 1999-2002 Nissan Quest
VG33ER This was a supercharged version of the VG33E Nissan engine which was used in the 2001-2004 Nissan Frontier SC as well as the 2002-2004 Nissan Xterra SC. It produced 210 hp from the factory along with 246 lb-ft of torque.
Speak With A Specialist Now
Habla con un especialista ahora
Use The Search Tool
Verify options in the form for a quick search