Find your 3.3 Liter engine
Flat Rate Shipping (Commercial address)
Up to 5 Years Unlimited Mile Warranty
Excellent Customer Support
Toyota Lexus 3.3-liter-toyota-lexus Engines Variations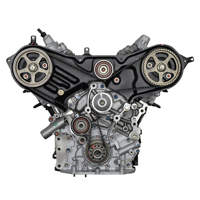 Best Price Guarantee
We will match or beat any
competitor's pricing.
ABOUT REMAN ENGINE
3.3-Liter Engines: The Toyota 3.3-liter engine made its debut as part of Toyota's MZ series engines in 2003 and was used widely among Toyota's lineup of automotive vehicles through the 2010 model year. The 3.3 Toyota engine was offered for the hybrid version of the Highlander, as well as equipping the Camry, Lexus, and Solara. The MZ engine was eventually phased out in favor of the GR engine family.
3MZ-FE - This 3.3 V6 Toyota engine had an aluminum block with a forged steel crankshaft that utilized forged connecting rods and aluminum alloy pistons. The 3.3-liter 3MZ-FE Toyota engines produced approximately 225 hp at the crank and was used as a 2004-2007 Toyota Highlander engine, 2004-2008 Toyota Solara engine, 2004-2006 Toyota Sienna engine, 2003-2006 Toyota Camry V6 engine, 2005-2010 Toyota Highlander Hybrid engine, 2004-2006 Lexus RX 330 engine, 2005-2009 Lexus RX 400h engine, and the 2004-2006 Lexus ES 330
Speak With A Specialist Now
Habla con un especialista ahora
Use The Search Tool
Verify options in the form for a quick search