Find your 3.5 Liter engine
Flat Rate Shipping (Commercial address)
Up to 5 Years Unlimited Mile Warranty
Excellent Customer Support
Plymouth Dodge Chrysler 3.5-liter-dodge-chrysler-plymouth Engines Variations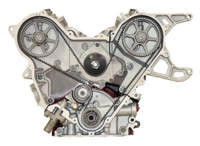 Best Price Guarantee
We will match or beat any
competitor's pricing.
ABOUT REMAN ENGINE
3.5-Liter Engines: The 3.5 Chrysler / Dodge engine was first introduced to the industry in 1993 and was among the first ever to feature a single overhead cam V6 engine. It is upgraded from the 3.3-liter V6 engine model previously released by Chrysler motors and was replaced by the Pentastar version. This engine was basically just an updated version of the 3.3 Chrysler engine that included a larger bore diameter, a higher flow intake manifold, and a timing belt instead of a chain. The valves involved in running the engine do not collide with pistons during belt failure which was a new update that improved its safety and efficiency. Its 96mm bore and the overhead cam is among the notable features of this engine type. The Chrysler 3.5 engine for sale produced somewhere between 214-255 hp depending on the year and the model it was in.
EGE - This version of the Chrysler 3.5 engine was found in the 1992-1997 Chrysler Concorde, and the 1993-1997 Dodge Intrepid. The EGE was the first version of the 3.5-liter Chrysler V6 engine produced and it was rated at 214 hp when it first came out.


EGG - The EGG engine was considered one of the high-powered alternates of the 3.5 Chrysler engine and included an aluminum block as well as aluminum cylinder heads, unlike its cast-iron block alternatives. This Chrysler engine produced anywhere from 247-253 hp and was put in the 1999-2004 Chrysler 300M, 1997-2003 Chrysler Concorde, 1997-2002 Plymouth Prowler, 1997-2004 Dodge Intrepid, 2006-2010 Dodge Charger, and 2009-2010 Dodge Challenger.


EGJ - They didn't change much with the EGJ as it is almost exactly the same engine as the EGE was. This Chrysler / Dodge 3.5 engine was for sale in the 1997-2003 Chrysler Concorde, 2004-2008 Chrysler Pacifica, 1997-2004 Dodge Intrepid, and the 2004-2008 Dodge Magnum.


EGK - The EGK Chrysler engine was an exclusive engine model for the Chrysler 300M Special and was discontinued in 2004 after a very short life of only 2 years.


EGF - This 3.5l Chrysler / Dodge engine was found in the 2007-2010 Chrysler Sebring, and 2008-2010 Dodge Avenger.
Speak With A Specialist Now
Habla con un especialista ahora
Use The Search Tool
Verify options in the form for a quick search