Find your 3.5 Liter engine
Flat Rate Shipping (Commercial address)
Up to 5 Years Unlimited Mile Warranty
Excellent Customer Support
Ford Lincoln Mazda Mercury 3.5-liter-ford-lincoln-mazda-mercury Engines Variations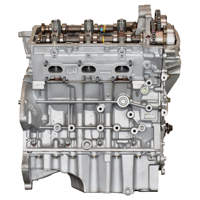 Best Price Guarantee
We will match or beat any
competitor's pricing.
ABOUT REMAN ENGINE
3.5-Liter Engines: The 3.5-liter V6 has been produced as a naturally aspirated gasoline engine as well as a turbocharged gasoline engine by Ford Motor Company. This 3.5L size Ford engine has gone by a few different names such as the Duratec 35, Cyclone 3.5 engine, as well as the 1st and 2nd generation EcoBoost 3.5-liter engines.
Duratec 35 - The Ford Duratec 3.5 engine is a 3.5-liter naturally aspirated V6 engine. This engine belongs to the Ford Cyclone family and is an all-aluminum engine. It is to be noted that a failing water pump is a very common problem for this engine in its stock form without any modifications. This 3.5 Ford engine for sale found itself in the 2007-2010 Ford Edge, 2008-2012 Ford Taurus, 2008-2009 Ford Taurus X, 2010-2012 Ford Fusion Sport, 2009-2012 Ford Flex, 2015-2017 Ford F-150, 2011-2014 Ford Edge, 2015-2018 Ford Edge, 2013-2019 Ford Flex, 2013-2019 Ford Taurus, 2011-2019 Ford Explorer, 2007-2010 Lincoln MKX, 2007-2012 Lincoln MKZ, 2007-2016 Mazda CX-9, and the 2008-2009 Mercury Sable. The Duratec 3.5 engine produced anywhere from 265-290 hp.


3.5 EcoBoost (1st generation) - First introduced as the "TwinForce" engine. It was a V6 gasoline direct-injected and turbocharged engine. The 3.5-liter EcoBoost was seen in the Taurus as well as the F-150 as well as some other Ford models. This first-generation 3.5 EcoBoost engine used the Duratec 35 block and added numerous modifications to the engine to be able to handle the 11 pounds of boost that the turbos generated. This engine produced horsepower ratings between 310 to 380 hp from the factory with a compression ratio of 10.0:1 and was installed into the 2015-present Ford Transit, 2010-2012 Ford Flex, 2010-2019 Ford Taurus SHO, 2013-2019 Ford Explorer Sport, 2016-2019 Ford Explorer Platinum, 2013-2019 Ford Flex, 2011-2016 Ford F-150, 2015-2017 Ford Expedition, 2010-2016 Lincoln MKS, 2010-2019 Lincoln MKT, and the 2015-2017 Lincoln Navigator.


3.5 EcoBoost (2nd generation) - This is the second generation of the original 3.5 L with added port fuel injection for extra fuel without waste, an upgraded cam drive system to a two-chain primary system, lighter turbine wheels in the turbo allowed for more response from the throttle, some parts of the engine walls were thickened for extra support, and finally the compression ratio was increased to 10.5:1. This second-generation 3.5L EcoBoost engine was nicknamed the "D35" engine and produced anywhere from 375 hp all the way up to an astonishing 660 hp. The D35 EcoBoost was used as a 2017-present Ford F-150 engine, 2018-present Ford Expedition engine, 2017-present Ford F-150 Raptor engine, 2018-present Lincoln Navigator engine, and 2017-present Ford GT engine.
Speak With A Specialist Now
Habla con un especialista ahora
Use The Search Tool
Verify options in the form for a quick search