Find your 3.5 Liter engine
Flat Rate Shipping (Commercial address)
Up to 5 Years Unlimited Mile Warranty
Excellent Customer Support
Toyota Lexus 3.5-liter-toyota-lexus Engines Variations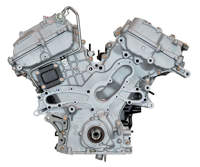 Best Price Guarantee
We will match or beat any
competitor's pricing.
ABOUT REMAN ENGINE
3.5-Liter Engines: The 3.5-liter displacement V6 engine was first manufactured by Toyota Motor Company in 2006 to power the Toyota Avalon and was a part of the GR Toyota engine family. It was the GR series of V6 motor design that replaced the company's earlier inline 6-cylinder that included the older VZ and MZ V6 engine variants. The new GR series featured 4-valves per cylinder with a cast aluminum intake manifold.
2GR-FE - This engine was the first 3.5-liter V6 Toyota engine ever produced. This 3.5 Toyota engine had an aluminum block, aluminum dual overhead cam (DOHC) cylinder heads, and an aluminum intake manifold. On top of all that, this engine featured dual variable valve timing with intelligence (VVT-i) for the exhaust and intake sides, and to top it all off this engine uses a timing chain instead of a belt. The 3.5 2GR-FE Toyota engine is used in the 2005-2018 Toyota Avalon, 2005-2012 Toyota RAV4, 2006-2017 Toyota Camry, 2006-2012 Lexus ES 350, 2007-2015 Lexus RX 350, 2007-2016 Toyota Highlander, 2008-2016 Toyota Venza, and the 2006-2016 Toyota Sienna.
2GR-FSE - This version of the 3.5-liter Toyota engine is used more so in Lexus vehicles as it is more performance oriented. This 3.5 Toyota engine has a mixture of direct injection and port fuel injection and a tune up that results in a power output of approximately 304-316 horsepower straight out of the crate. This high performance 3.5 V6 from Toyota is used as a 2013-2015 Lexus GS 350 engine, 2005-2013 Lexus IS350 engine, and the 2014-2017 Lexus RC 350
2GR-FXE - This was the Atkinson cycle version of the 3.5-liter V6 Toyota engine for sale. This version of the Toyota 3.5 engine features a high compression ratio of 12.5:1 - 13.0:1 and it produces anywhere from 245-290 hp. It was put in the 2010 Lexus RX 450h, 2010 Toyota Highlander Hybrid, and the 2012 Lexus GS 450h.
Speak With A Specialist Now
Habla con un especialista ahora
Use The Search Tool
Verify options in the form for a quick search