Find your 3.6 Liter engine
Flat Rate Shipping (Commercial address)
Up to 5 Years Unlimited Mile Warranty
Excellent Customer Support
Jeep Dodge Chrysler 3.6-liter-dodge-jeep-chrysler Engines Variations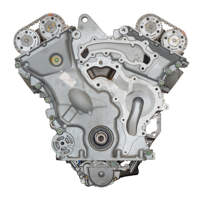 Best Price Guarantee
We will match or beat any
competitor's pricing.
ABOUT REMAN ENGINE
3.6-Liter Engines:
The Chrysler 3.6 engine is known as the 3.6 Pentastar engine and has had numerous engine variations over the course of its life so far. It should be noted that this engine is also referred to as the Dodge 3.6 engine and Jeep 3.6 engine but they are all within the Pentastar engine family. A 2016 upgrade saw the engine feature a two-stage variable valve lift, new fuel injectors, a cooled EGR, and new ignition coils, lowering the overall weight and internal friction. The first Pentastar engine was introduced by Chrysler Motor Corporation in 2011 to be used in Chrysler, Dodge, and Jeep vehicle production models. It is still used in their various production models to date.
3.6 Pentastar - The 3.6 Pentastar engine for sale has been used in a wide variety of makes and models including the 2011-2017 Chrysler 200, 2011-2016 Chrysler Town & Country, 2011-2014 Dodge Avenger, 2011-present Dodge Challenger, 2011-present Dodge Charger, 2011-present Dodge Durango, 2011-2020 Dodge Grand Caravan, 2011-2019 Dodge Journey, 2011-2015 Jeep Grand Cherokee, 2011-present Chrysler 300, 2012-2018 Jeep Wrangler JK, 2019-present Jeep Wrangler JL, 2020-present Jeep Gladiator JT, 2011-2015 Ram Cargo Van, 2012-present remanufactured Ram 1500 engines , 2013-2021 Ram ProMaster, 2016-present Chrysler Pacifica, and 2020-present Chrysler Voyager. Needless to say, the 3.6 Pentastar engine was a very popular one that ended up being utilized in most of Chrysler's various model lineups. It should be noted that in 2016 Chrysler made a major upgrade to the 3.6 Pentastar that featured a variable valve lift (VVL), a new intake manifold, new ignition coils, new fuel injectors, an upgraded variable valve timing (VVT) system, and an increased compression ratio to 11.3:1. This engine was rated anywhere between 283 hp to 305 hp.
Speak With A Specialist Now
Habla con un especialista ahora
Use The Search Tool
Verify options in the form for a quick search