Find your 3.6 Liter engine
Flat Rate Shipping (Commercial address)
Up to 5 Years Unlimited Mile Warranty
Excellent Customer Support
Buick Cadillac Chevrolet GMC Saturn 3.6-liter-gm-chevy-cadillac-gmc-saturn-buick Engines Variations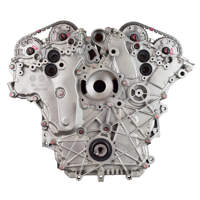 Best Price Guarantee
We will match or beat any
competitor's pricing.
ABOUT REMAN ENGINE
3.6 Liter Engines: The Chevrolet 3.6-liter V6 is also referred to as a 3600 Vortec and GM 3.6 engine for sale. Most of these engines had a designation of LFX. The engine is a 60 degree 24-valve V6 engine with aluminum heads and block. Also known as the GM High Feature engine (HFV6). This style engine was introduced in 2004 and is still present in the Chevrolet lineup today. A common problem with this type of engine is a head gasket failure.
LY7 - The original 3.6l V6 engine for GM. It had a compression ratio of 10.2:1, produced approximately 235 hp, and weighed about 370 lbs. The engine was featured in the 2004-2007 Buick Rendezvous, 2004-2009 Cadillac CTS, 2004-2009 Cadillac SRX, 2005-2008 Buick LaCrosse, 2005-2007 Cadillac STS, 2007-2008 GMC Acadia, 2008 Buick Enclave, 2008-2009 Pontiac G6, 2008-2009 Pontiac G8, 2008-2009 Pontiac torrent, 2008-2009 Saturn Vue, 2008-2012 Chevrolet Malibu, and 2008-2009 Chevrolet Equinox
LLT - Direct injection version of the LY7. It produced an impressive 302 hp at a compression ratio of 11.3:1. It was used as a Chevrolet Traverse engine from 2009-2017, a Chevrolet Camaro V6 engine from 2010-2011, a Cadillac CTS and STS engine from 2008-2011, a Buick Enclave engine from 2009-2017, a GMC Acadia engine from 2009-2016, a Saturn Outlook engine in 2009, and a Buick LaCrosse engine from 2010-2011.
LFX - Revamp of LLT, had a redesigned cylinder head which allowed for a slightly higher compression ratio of 11.5:1. This 3.6 Chevy engine was found in the 2012-2015 Chevrolet Camaro, 2012-2017 Chevrolet Caprice, 2015-2016 Chevrolet Colorado, 2013-2017 Chevrolet Equinox, 2012-2016 Chevrolet Impala, 2014-2020 Chevrolet Impala, 2012-2016 Buick LaCrosse, 2013-2015 Cadillac ATS, 2012-2016 Cadillac SRX, 2012-2015 Cadillac CTS, 2013-2019 Cadillac XTS, 2015-2016 GMC Canyon, and 2013-2017 GMC Terrain.
LFR - Bi-fuel version of the LFX engine. It featured CNG compatibility and turned out horsepower ratings between 232 hp and 258 hp. The engine was featured in the 2015-2017 Chevrolet Impala with the Bi-Fuel option.
LFY - Same as the LFX engine, just with added stop-start technology. This is used as the 2018-present day Chevrolet traverse engine for sale as well as a 2018-present Buick Enclave engine for sale.. It produces 310 hp and 266ft-lb of torque.
LGX - Newest version of the 3.6L naturally aspirated, includes more bore spacing, direct injection, and a compression ratio of 11.5:1. This engine was seen in the 2019-present Chevrolet Blazer SUV as well as the 2016-present Chevrolet Camaro, 2016-2019 Cadillac ATS, 2016-2019 Cadillac CT6, 2016-2019 Cadillac CTS, 2017-present Buick LaCrosse, 2018-present Buick Regal GS, 2017-present Cadillac XT5, 2017-present GMC Acadia, and 2020-present Cadillac XT6.
LGZ - This is a different version of the LGX and makes 308 hp with 275lb-ft of torque. It was and is used in the 2017-present day Chevrolet Colorado as well as the 2017-present GMC Canyon.
Speak With A Specialist Now
Habla con un especialista ahora
Use The Search Tool
Verify options in the form for a quick search