Find your 3.7 Liter engine
Flat Rate Shipping (Commercial address)
Up to 5 Years Unlimited Mile Warranty
Excellent Customer Support
Ford Lincoln Mazda 3.7-liter-ford-lincoln-mazda Engines Variations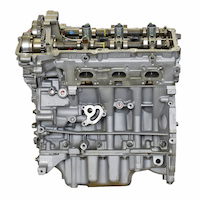 Best Price Guarantee
We will match or beat any
competitor's pricing.
ABOUT REMAN ENGINE
3.7-Liter Engines: This V6 engine is part of the Cyclone family of engines. It made its first appearance in 2007. This engine is used as a replacement for the 4.0 Cologne V6 engine. This is a fairly reliable engine, but the chain-driven water pump can easily become a problem if it is not maintained properly.
Duratec 37 - The Duratec 3.7-liter engine is the largest Duratec engine produced by the Ford Motor Company. This engine also was sold under the designation of CSG-637 engine and is in the Cyclone engine category. The Duratec 37 featured longitudinal and transverse application versatility as well as twin independent variable cam timing that increased its horsepower and gas mileage substantially. This engine produced between 273hp and 305hp. It was put into production in the 2011-2014 Ford F-150, 2011-2017 Ford Mustang, 2011-2014 Ford Edge Sport, 2013-2019 Ford Police Interceptor Sedan, 2008-2015 Mazda CX-9, 2009-2013 Mazda 6, 2009-2012 Lincoln MKS, 2010-2012 Lincoln MKT, 2011-2018 Lincoln MKX, 2013-2016 Lincoln MKS, 2013-2018 Lincoln MKT, and the 2017-2020 Lincoln Continental.
Speak With A Specialist Now
Habla con un especialista ahora
Use The Search Tool
Verify options in the form for a quick search