Find your 3.8 Liter engine
Flat Rate Shipping (Commercial address)
Up to 5 Years Unlimited Mile Warranty
Excellent Customer Support
Ford Lincoln Mercury 3.8-liter-ford-lincoln-mercury Engines Variations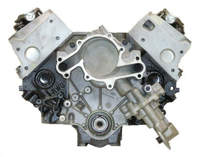 Best Price Guarantee
We will match or beat any
competitor's pricing.
ABOUT REMAN ENGINE
3.8-Liter Engines: The 3.8 L V-6 engine was introduced for the model year 1982. It has gone through many updates over the years, creating a more powerful and efficient engine.
3.8 Essex V6 - This 3.8-liter Ford V6 engine was for sale from its introduction date in 1982 all the way until it stopped production in 2003. This engine underwent several changes throughout its lifespan and there were many alterations/ variations depending on the model it was put in and the year of the vehicle. When the engine was first released it used a 2-barrel carburetor for its source of fuel but was switched to a multi-point fuel injection system in 1988. The engine also received a new powertrain control module (PCM), split port cylinder head, an intake manifold runner control system, and a variable length intake manifold later on in life. The 3.8 Essex engine also received a supercharger from 1989-1995 when it was installed in the Thunderbird Super Coupe. This engine can be found in the 1982 Ford Granada, 1982-1983 Ford F100, 1982-1997 Ford Thunderbird, 1982-1986 & 1994-2004 Ford Mustang, 1983-1986 Ford LTD, 1988-1995 Ford Taurus, 1995-2003 Ford Windstar, 1982-1997 Mercury Cougar, 1982-1986 Mercury Capri, 1983-1986 Mercury Marquis, 1988-1995 Mercury Sable, and the 1988-1994 Lincoln Continental. It was rated at anywhere from 120-230 hp depending on the year and model it was in.
Speak With A Specialist Now
Habla con un especialista ahora
Use The Search Tool
Verify options in the form for a quick search