Find your 3.8 Liter engine
Flat Rate Shipping (Commercial address)
Up to 5 Years Unlimited Mile Warranty
Excellent Customer Support
Pontiac Buick Chevrolet 3.8-liter-gm-chevy-pontiac-buick Engines Variations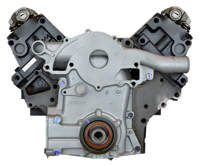 Best Price Guarantee
We will match or beat any
competitor's pricing.
ABOUT REMAN ENGINE
3.8 Liter Engines: The Chevrolet 3.8-liter V6 engine is also referred to as a 3800 Vortec engine, Buick 3.8 engine, or GM 3800 engine. A common issue with some of the Chevrolet 3.8 Liter engines was the temp sensor in the passenger side of the intake manifold which tends to leak after 100,000 miles. It should also be noted that in 1978 Chevrolet made a 231 CID engine which is technically the first 3.8-liter engine that they used, but the 70s, 80s and early to mid 90s 3.8-liter engines are not referred to as a Vortec engine.
229 CID - The original 229 CID V6 Chevy engine was found in the 1980-1984 Chevrolet Malibu, Chevrolet Monte Carlo, and Chevrolet Camaro. The engine was rated between 110-115 hp. This engine was only ever equipped with a 2-barrel carburetor and had a compression ratio of 8.6:1.
LD5 - This 231 cubic inch (3.8-liter) V6 General Motors engine was first released in 1978 to reduce overall emissions in some of their more economical vehicles. This engine was mainly used in the Buick Riviera and other front wheel drive GM applications.
LC2 - This is the turbocharged version of the 3.8-liter engine that was also released in 1978. This turbo 3.8 engine for sale featured sequential fuel injection, a distributor-less ignition system, and a Garrett intercooler system which allowed it to produce up to 300 hp from the factory. The turbo 3.8 engine was used in the 1978-1987 Buick Regal, 1978-1980 Buick LeSabre, 1979-1980 Buick Century, 1979-1985 Buick Riviera, 1980-1981 Chevrolet Monte Carlo, and the 1989 Pontiac Trans Am Turbo.
LN3 - Introduced in 1988, it produced 165hp and 210lb-ft of torque and was a naturally aspirated 3.8-liter V6 engine. This engine was very similar to the L27 and L67 supercharged engines as it used the same intake manifolds as well as similar cylinder heads. These engines were on into the mid 1990s.
L67 (Series 1) - Version of the GM 3800 engine with upgraded internals and a M62 Eaton supercharger. This supercharged 3.8 engine produced anywhere from 205-225 hp from the factory and was featured in the 1991-1995 Buick Park Avenue Ultra, 1992-1995 Oldsmobile Eighty-Eight and Ninety-Eight, 1992-1995 Pontiac Bonneville, and the 1995 Buick Riviera.
L67 (Series 2) - Appeared in 1996, uses Eaton M90 supercharger instead along with different heads, intake manifold, and pistons. These engines were improved upon a lot compared to the series 1 engine and ended up weighing 26lbs less, achieving better fuel economy, and producing more torque than the series 1 3.8 supercharged engine.
L26 - This is the newest version of the naturally aspirated 3.8 Buick engine. It has 9.4:1 compression, received an upgraded intake manifold in 2004, and even stronger connecting rods in 2005. This engine was put into the 2004-2008 Pontiac Grand Prix, 2005-2009 Buick LaCrosse, and the 2006-2008 Buick Lucerne.
L32 (Series 3) - This was the last of the 3.8 supercharged GM engines for sale. It came with electronic throttle control added along with even stronger internal components. This engine also included an upgraded Eaton supercharger as well as an improved cylinder head. This engine did however require 91 octanes or higher fuel and was used as a 2004-2005 Pontiac Grand Prix GTP engine as well as a 2006-2007 Pontiac Grand Prix GT engine.
Speak With A Specialist Now
Habla con un especialista ahora
Use The Search Tool
Verify options in the form for a quick search