Find your 3.9 Liter engine
Flat Rate Shipping (Commercial address)
Up to 5 Years Unlimited Mile Warranty
Excellent Customer Support
Jeep Dodge 3.9-liter-dodge-jeep Engines Variations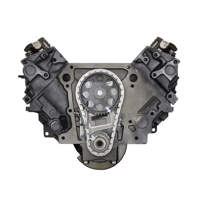 Best Price Guarantee
We will match or beat any
competitor's pricing.
ABOUT REMAN ENGINE
3.9-Liter Engines: The Chrysler 3.9 engine was also called the Chrysler 238 V6 because it was 238 cubic inches. This engine fell under the Chrysler LA engine classification which means it is a pushrod overhead valve engine. The Chrysler / Dodge 3.9 engine was essentially a 318 V8 motor that was stripped of two of its cylinders. This engine came in two different variations including a regular 3.9 V6 engine and the Magnum 3.9 engine.
239 CID V6 - This engine was initially launched in the 1987 Dodge Dakota to replace the outdated slant 6 engine. This engine was rated at 125 hp and was used till 1992 when the Magnum 3.9 engine took its place. This engine first used a two-barrel carburetor which was later upgraded to throttle body fuel injection before it was replaced by the Magnum engine.

Magnum 3.9 V6 - The Dodge Magnum 3.9 engine was introduced in 1993 and had a horsepower rating of 180 hp with its newly added multi-point fuel injection which was a major upgrade from the old throttle body injected predecessor 3.9 V6 Dodge engine. The Magnum 3.9-liter V6 engine was put into the 1992-2003 Dodge Dakota, 1992-2003 Dodge Ram Van / Wagon, 1999 Jeep Grand Cherokee, and the 1992-2001 Dodge Ram pickup.
Speak With A Specialist Now
Habla con un especialista ahora
Use The Search Tool
Verify options in the form for a quick search