Find your 3.9 Liter engine
Flat Rate Shipping (Commercial address)
Up to 5 Years Unlimited Mile Warranty
Excellent Customer Support
Buick Chevrolet Saturn 3.9-liter-gm-chevy-buick-saturn Engines Variations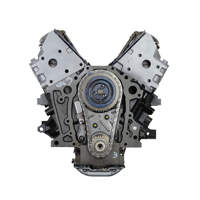 Best Price Guarantee
We will match or beat any
competitor's pricing.
ABOUT REMAN ENGINE
3.9 Liter Engines: The 3.9-liter Chevrolet engines for sale in many mid-2000's GM vehicles were in the Chevrolet High-Value V6 engine class. These engines were a new spin on the old 60 degree V6 engines and produced ample amounts of power.
LZ9 - This was the first version of the Chevrolet 3900 3.9 V6 engine. It was a pushrod engine with variable cam timing and a variable length intake manifold. This engine was found in the 2006-2007 Chevrolet Malibu SS, 2006-2011 Chevrolet Impala, 2006-2011 Chevrolet Monte Carlo, 2006-2009 Pontiac G6 GTP and GT, 2006-2009 Buick Terraza, and 2009-2011 Buick Lucerne.
LZ8 - Virtually the same engine as the LZ9. Only differences are it is rated at 7 hp less than the previous designation and has active fuel management technology. This engine was only found in the 2007-2008 Chevrolet Impala.
LGD - Flex fuel equipped version of the LZ9. This engine was found in the 2007-2009 Chevrolet Uplander, 2009-2011 Chevrolet Impala, 2007-2009 Buick Terraza, 2009-2011 Buick Lucerne, and 2007 Saturn Relay.
LZG - Flex fuel equipped version of the LZ8. It was featured in the 2008 Chevrolet Impala LTZ and Chevrolet Impala
Speak With A Specialist Now
Habla con un especialista ahora
Use The Search Tool
Verify options in the form for a quick search