Find your 5.7 Liter engine
Flat Rate Shipping (Commercial address)
Up to 5 Years Unlimited Mile Warranty
Excellent Customer Support
Buick Cadillac Chevrolet Oldsmobile 350-cubic-inch-gm-chevy-buick-cadillac-pontiac Engines Variations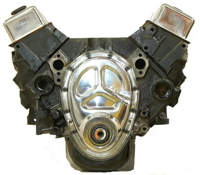 Best Price Guarantee
We will match or beat any
competitor's pricing.
ABOUT REMAN ENGINE
(350 CID) 5.7 Liter Engines: The Chevrolet 5.7-liter V8 engine is also referred to as the 350 small block chevy engine or 350 sbc. The 350 small block Chevy engine appeared in several Chevrolet cars and trucks throughout the 36 years it was in production. Additionally, some LS performance engines fall under this 5.7-liter engine class as well as some Chevy truck engines for sale.
L48 - This was the very first version of the 350 small block Chevy engine for sale and it appeared as a performance option in the 1967 Chevrolet Camaro. It used a hydraulic cam, 4 barrel quadrajet carburetor, 4-bolt main, and cast pistons. This engine was rated at 300 hp and in later years also found its way into the Chevrolet Nova along with the rest of the Chevy lineup of vehicles.
L46 - This Chevy 350 engine was an option for the 1969 Chevrolet Corvette. It had slightly higher compression ratios than the L48 with 11.0:1 compression as well as making slightly more horsepower from the factory with a rating of 350 hp.
L65 - Produced from 1970-1976, this engine found itself used as a 1970-1976 Chevrolet Camaro engine. It was pretty much the same engine as the L48 other than the fact it had a 2 barrel Rochester carburetor.
LM1 - This engine was used from 1979 until 1988 and was replaced by the L05 5.7 Chevy small block engine. It made anywhere from 155-175 hp and was used in the Chevrolet Malibu, Chevrolet Camaro, Chevrolet Caprice, and Chevrolet Impala.
ZQ3 - In production from 1969-1974, the ZQ3 350 engine was used solely as a 1969-1974 standard Chevrolet Corvette engine which made anywhere from 190 hp to 300 hp.
LT-1 - It is to be noted that this was the first small block Chevy 5.7-liter engine used by Chevrolet that was designated the name, LT-1. Scroll on further down the page to read about the latter LT-1 engine produced in the 90's. This was arguably the most popular small black Chevy engine for sale. It was produced between 1970-1972, had 11.0:1 compression, solid lifters, and a high performance cam. This engine was rated at 330 gross hp and 255 net hp. It was found in the Chevrolet Corvette and Chevrolet Camaro Z28.
L82 - The L82 small block Chevy was produced between 1973 up until 1980. It featured forged aluminum pistons and a hydraulic lifter cam producing anywhere between 210-250 hp. This engine was most commonly used in the Chevrolet Camaro and Chevrolet Corvette.
L81 - This 5.7-liter small block was only produced for the year 1981. It was a very similar engine to the original L48 350 sbc other than the fact it had more advanced spark control and a hotter camshaft.
LS9 - The LS9 sbc 5.7 was one of the longest Chevy small block engines to stay in production. It was produced from 1969 till 1986 and was only used for C/K/G trucks. It rated at 165 hp for the year 1984.
LT-9 - Found most commonly as K20 and K30 Chevy pickup truck engines, they were used from 1981 through 1986. These engines were rated at 160 hp at 8.3:1 compression.
L83 - Added crossfire fuel injection and a 9.0:1 compression ratio. This engine was found in the 1982 Chevrolet Corvette and 1984 Chevrolet Corvette.
L98 - This engine was produced from 1985-1992 and was only available in the Chevrolet Corvette and the Chevrolet Camaro / Pontiac Firebird The Corvette versions received aluminum cylinder heads though. All L98's had tuned-port injection systems (TPI) and ranged in horsepower from 230-245 hp.
LS1 - Rated at 345 hp, the LS1 was mainly a performance engine that was put into the 1997-2004 Chevrolet Corvette as well as the 1998-2002 Chevrolet Camaro Z28 and Camaro SS. The LS1 also appeared in the General Motors Pontiac division with the 1998-2002 Pontiac Firebird Formula / Trans Am, and the 2004 Pontiac GTO.
LS6 - This was the high output (HO) version of the LS1, it had a better flowing intake manifold, some changes to the valves, and some other tuning tweaks that gave it a slightly higher compression ratio. The LS6 performance engine was for sale in the 2001-2004 Chevrolet Corvette Z06 and the 2004-2005 Cadillac CTS-V.
LT-1 - Also known as the Chevy LT1 350 engine for sale, this engine was performance oriented with a 2-valve pushrod design and a reverse-flow cooling system that cooled from the top of the heads down. Came with 300 hp from the factory. The engine appeared in the 1992-1996 Chevrolet Corvette C4, 1993-1997 Chevrolet Camaro Z28/ SS, 1994-1996 Chevrolet Caprice (with or without the police package), 1994-1996 Chevrolet Impala SS, 1994-1996 Chevrolet Caprice Wagon, 1993-1997 Pontiac Firebird Formula / Trans Am, and the 1994-1996 Buick Roadmaster.
LT-4 - Higher performance version of the LT-1 and was rated at 330hp. This engine had a red high-flow intake manifold, larger fuel injectors, lighter intake and exhaust valves, better cams, and a slightly higher compression ratio of 10.8:1. The LT4 5.7 Chevy engine was only for sale in the 1996 Chevrolet Corvette, 1997 Chevrolet Camaro SS, and the 1997 Pontiac Firebird Firehawk.
LT5 - The LT5 had a double overhead cam design and was an all-aluminum engine. The LT5 Chevy engine was featured in the 1990-1995 Chevrolet Corvette C4 ZR-1. From 1990-1992 the engine was rated at 375 hp while the 1993-1995 version was rated at an impressive 405 hp.
L05 - Was mainly produced in C/K pickup trucks and police Caprices. These engines were primarily designed for fuel efficiency and featured swirl intake ports. The engines were produced from 1987 all the way until 1996 in some models.
L31 - Primarily a Chevy 5.7 truck engine for sale in the C/K trucks. Identified by an "R" in the 8th digit of the VIN code. This engine was also known as the Vortec 5700 or Vortec 5.7 and made anywhere from 255 hp all the way up to 350 hp in some model years. It should be noted that this engine was also used as a 5.7 Cadillac Escalade engine.
Rocket 350 - Dubbed the Rocket 350 engine by Oldsmobile, this 350 cubic inch V8 engine under the General Motors umbrella was first manufactured in 1968. The 350 Rocket engine for sale was a profoundly different engine than the 350 small block Chevy engine in that it used an oversquare bore in the block as well as heavier blocks, heavier duty crankshafts, and even higher flowing cylinder heads. Later engines were even given electronic port fuel injection. This engine was produced from 1968-1980 in the 1976-1979 Cadillac Seville, 1979 Cadillac Eldorado, 1968-1977 Oldsmobile Cutlass, 1968-1977 Oldsmobile Vista Cruiser, 1973-1977 Oldsmobile 4-4-2, 1968-1980 Oldsmobile Delta 98, 1977-1980 Oldsmobile 98, 1973-1981 Oldsmobile Toronado, and the 1973-1979 Oldsmobile Omega.
350 Marine engine - The 350 cubic inch small block Chevrolet marine engine is actually a modified version of the L31 truck 5.7 engine. This engine was dubbed the Chevrolet RamJet 350 engine for sale. This Chevrolet 5.7 boat engine used Bosch-style fuel injectors, a marine cast-iron intake, and various other alterations that ultimately made it suitable for marine applications. These engines can be found rated at anywhere from 250-400 hp as a Chevrolet 350 marine crate engine.
Speak With A Specialist Now
Habla con un especialista ahora
Use The Search Tool
Verify options in the form for a quick search