Find your 5.7 Liter engine
Flat Rate Shipping (Commercial address)
Up to 5 Years Unlimited Mile Warranty
Excellent Customer Support
Ford 351-cubic-inch-ford Engines Variations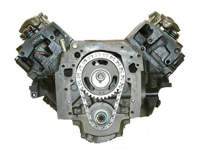 Best Price Guarantee
We will match or beat any
competitor's pricing.
ABOUT REMAN ENGINE
5.8-Liter Engines: This Ford small block was in production from 1961 to 2002. The 5.8-liter Ford small block engine saw many different names including the 351 Windsor, 351 Cleveland, and 351M engines along with all of their different variations over the years. The Ford small block 351 engine remains to be a truly iconic engine even so up until this day.
351 Windsor V8 - The 351 Ford Windsor engine was introduced in 1968 and was a staple in Ford's V8 family, staying in production for decades. This engine was known for its tall deck height and distinct firing order of 1-3-7-6-5-4-8. This engine had various different cylinder head designs over the years but it is to be noted that the 1969 and 1970 models of this engine have larger intake and exhaust valves. After 1971, to keep up with new emissions regulations, the compression ratio was reduced over time which also had an effect on the performance of the Ford 351 Windsor engine for sale. This famous Ford 5.8 engine was rated anywhere from 250 hp to 290 hp in its stock form and was produced from 1968 through 1996 encompassing almost 30 years of production. Over the years it was used as a 1968-1974 Ford Galaxie engine, 1968-1970 Ford Mustang engine, 1969-1991 Ford Country Squire engine, 1969-1979 Ford Fairlane engine, 1970-1976 Ford Torino engine, 1974-1976 Ford Elite engine, 1975-1996 Ford E-series Van engine, 1977-1979 Ford Thunderbird engine, 1979-1996 Ford Bronco engine, and a 1987-1997 Ford F-150 engine.


351 Cleveland V8 - The Ford 351 Cleveland was an engine produced as the alternative to the 351 Windsor engine and was produced at the Cleveland, Ohio Ford engine plant. This engine was produced because of increased production demands that the Ford Windsor engine plant could not sustain alone. The 351 Cleveland engine for sale was a heavier engine due to several changes made to the block and timing chain housing. This Ford 5.8-liter engine also received a new high-flow cylinder head design that had large intake and exhaust ports with canted intake and exhaust valves similar to those of the bigger displacement engines like the Ford 385 engine. The 351 Cleveland was only produced from 1969-1974 and had only 5 different spec codes.


351 Cleveland (H-Code) - The H-code 351 Cleveland engines were often labeled as the low-performance Cleveland engine. The engines were a complete cast iron setup besides the cast aluminum pistons. In addition, they had a notoriously low compression ratio of 8.0:1 by 1973 and 1974 despite being built with 9.5:1 compression in 1970. This also happened to be the only 351 Cleveland engine that came with a 2-valve setup (the rest came with 4).


351 Cleveland (M-Code) - This version of the 351 Cleveland was known as the high-performance variant but it was only produced between 1970 and 1971 in the Ford Mustang and Ford Torino. This engine came with a large port 4-valve head design and a quench combustion chamber. The M-code 351 Cleveland also came with flat-top pistons, a new hydraulic cam, and stiffer valve springs. All-in-all, this engine ended up with 11.0:1 compression and 300 hp at the crank when it was first released in 1970. The 1971 version had a slightly lower compression ratio of 10.7:1 and thus a slightly lower horsepower rating of 285 hp.


351 Cleveland (R-Code) - Also known as the 351 Cleveland Boss motor, 351 High-output (HO), or Boss 351 Cleveland, this engine was the most powerful version Ford produced. It is worth noting that two variations of this engine differ quite a bit due to changing emissions regulations that were occurring in the early 1970s. The 1971 R-Code engine is different from the 1972 R-Code engine and when someone talks about the 351 Cleveland Boss engine they are referring to the 1971 engine, not the 1972 engine which is referred to as the 351 high-output. In regards to the 1971 Cleveland 351, received forged dome top pistons, a four bolt main, a hardened cast-iron crankshaft, a modified cylinder head, shot-peened connecting rods, solid lifters, and an aluminum intake manifold giving the engine an 11.1:1 compression ratio and a horsepower rating of 330 hp. This engine was only put into 1,806 1971 Boss Mustangs so they are scarce. On the other hand, the 1972 351 Cleveland engine was for sale with flat top pistons instead of dome pistons along with a camshaft that had slightly less lift duration and some other small changes that brought the overall compression ratio down to 9.2:1 and a decreased in horsepower to 275 hp. The 1972 R-Code 351 engine was found in the 1972 Ford Mustang.


351 Cleveland (Q-Code) - This was the last variation that was produced of the 351 Cleveland engine and it was dubbed the "Cobra-Jet" or "CJ" engine by Ford Motor Company. This engine was quite a bit more common than the R-Code engines and was produced for longer since it was produced from 1971-1974 until the end of the 351 Cleveland engine production. This engine had hydraulic lifters instead of mechanical lifters like the R-Code engine had. It also included a longer-duration camshaft, four bolt main, different valve springs, and a different intake manifold. This engine was used in the Ford Mustang, Ford Ranchero, and Ford Torino with a horsepower rating between 246-290 hp depending on the year.


351M - After discontinuing the 351 Cleveland engine, Ford was looking for a replacement engine to keep up with demand for that size engine. In 1975, Ford created the 351M V8 engine by combining its 400 engine parts with the parts for the 351 Windsor engine. They took the tall deck block, long connecting rods, and most other major engine components from the 400 and combined them with the 351 Windsor crankshaft and pistons to create the Ford 351M engine. This engine was used from 1975 into the early 80s until the demand for the V8s declined sharply due to more and more emissions regulations by CAFE.


5.8 Trinity - The 5.8-liter Ford V8 engine for sale only appeared as a 2013-2014 Ford Mustang Shelby GT500 engine and as a 5.8 Ford crate engine for sale. The Ford 5.8 engine featured Ford GT cams, improved coolant flow rates through the cylinder heads, piston cooling jets similar to those of the 5.0 Coyote engine, and a TVS 2.3-liter supercharger. All of these modifications allowed the Ford 5.8 V8 engine to produce 662 hp at the crank from the factory.


351 Marine engine - The 351 marine engine for sale by Ford Motor Company has many safety features added to the engine due to the wet environment they have to endure. These 351 Ford engines include internal screens on the starters and alternators to eliminate sparks that may normally occur. In addition, the 351 marine engines have fuel systems that do not allow rupture or spillage within the engine compartment. Finally, when an engine is marinized, it is built with corrosion-resistant metals to withstand constant exposure to water and sometimes salt water.
Speak With A Specialist Now
Habla con un especialista ahora
Use The Search Tool
Verify options in the form for a quick search