Find your 4.0 Liter engine
Flat Rate Shipping (Commercial address)
Up to 5 Years Unlimited Mile Warranty
Excellent Customer Support
Dodge Chrysler 4.0-liter-dodge-chrysler Engines Variations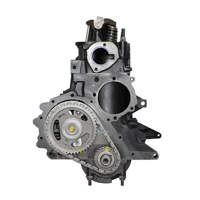 Best Price Guarantee
We will match or beat any
competitor's pricing.
ABOUT REMAN ENGINE
4.0-Liter Engines: Over the course of decades Chrysler Motor Corporation went through various different types of 4.0-liter 6-cylinder engines including a V6 configuration as well as an inline 6-cylinder engine. The Chrysler 4.0-liter engine is often referred to as the Jeep 4.0 engine since the inline 6-cylinder 4.0 engine in the Jeeps was extremely popular. This is not to be confused with the single overhead cam (SOHC) 4.0 engine that was more commonly put into Dodge and Chrysler vehicles.
4.0 AMC Straight 6 - Different variations of the AMC 4.0-liter inline 6-cylinder engine were found placed in the 1987-2001 Jeep Cherokee, 1993-2004 Jeep Grand Cherokee, and the 1991-2006 Jeep Wrangler. The horsepower ratings varied over the years and were rated anywhere from 177hp up to 190 hp in the later models. Some of these Jeep 4.0 engines for sale were prone to cracks in the cylinder heads which would ultimately cause complete engine failure but this problem was fixed in mid-2001. In the mid-2000 model year, the engine received a distributor-less ignition system and these engines had the code "ERH" attached to them. All of the Chrysler AMC 4.0 engines produced after 1995 received a stronger engine block than the engines that came before it.


4.0 SOHC - This 4.0-liter Chrysler / Dodge engine was in the single overhead cam (SOHC) V6 engine configuration and was used in the production vehicles: 2007-2011 Dodge Nitro, 2007-2008 Chrysler Pacifica, 2008-2010 Chrysler Town & Country, and the 2008-2010 Dodge Grand Caravan. The Chrysler 4.0 engine produced anywhere from 251-260 hp throughout its lifespan.
Speak With A Specialist Now
Habla con un especialista ahora
Use The Search Tool
Verify options in the form for a quick search