Find your 4.0 Liter engine
Flat Rate Shipping (Commercial address)
Up to 5 Years Unlimited Mile Warranty
Excellent Customer Support
Ford Mazda Mercury 4.0-liter-ford-mazda-mercury Engines Variations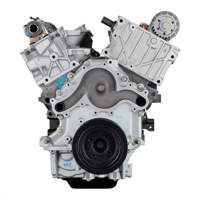 Best Price Guarantee
We will match or beat any
competitor's pricing.
ABOUT REMAN ENGINE
4.0-Liter Engines: The Ford 4.0 V6 engine was originally a pushrod engine that was born in the year 1990. This engine was in production by Ford Motor Company all the way up until late 2002 and during that time frame it underwent many changes. Ford continued to produce an updated version of the 4.0-liter V6 engine until they stopped manufacturing it altogether in 2012. A common problem for this engine across all years but especially before 2002 was its timing chain guides going bad prematurely which would cause a notable rattling sound.
4.0 Cologne V6 - Original engine was produced in Cologne, Germany but was only made to fit American vehicles. The engine was an overhead valve design that produced 160 hp from the factory. The original 4.0 V6 Cologne was used as a Ford Ranger engine, a Ford Explorer engine, and a Ford Aerostar engine.


4.0 Cologne V6 SOHC - This version of Ford's 4.0 V6 engine for sale featured a variable length intake manifold and this engine was the most notable for the timing chain guides and tensioners to break, however, Ford fixed this issue in most of the vehicles that had this engine after 2002. This Ford 4.0 engine was found in the 2001-2012 Ford Ranger, 1997-2010 Ford Explorer, 2004-2006 Ford Courier, 2005-2010 Ford Mustang, 2001-2010 Mazda B4000, 1997-2010 Mercury Mountaineer, and the 2005-2009 Land Rover LR3.
Speak With A Specialist Now
Habla con un especialista ahora
Use The Search Tool
Verify options in the form for a quick search