Find your 4.0 Liter engine
Flat Rate Shipping (Commercial address)
Up to 5 Years Unlimited Mile Warranty
Excellent Customer Support
Nissan 4.0-liter-nissan Engines Variations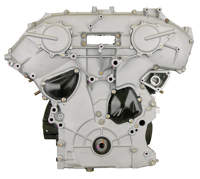 Best Price Guarantee
We will match or beat any
competitor's pricing.
ABOUT REMAN ENGINE
4.0 Liter Engines: The VQ40DE is the only 4.0-liter Nissan engine used in current Nissan vehicles now and only 4.0 V6 engine they ever produced. In some vehicles, this engine is known to have timing chain guide issues later in life that can create a whining sound that gets worse over time. The timing chain guide issues are normally brought about through poor maintenance like waiting too long between oil changes and driving with low oil.
VQ40DE The Nissan 4.0 engine is basically a longer-stroke variant of the VQ35DE engine. It is rated at between 261 to 275 hp and 281 to 288 lb-ft of torque. This engine was equipped with variable valve timing (VVT), a variable intake system, a silent timing chain system, and port fuel injection. The 4.0 Nissan V6 engine is for sale in the 2005-2019 Nissan Frontier, 2005-2015 Nissan Xterra, 2005-2012 Nissan Pathfinder, 2012-present Nissan NV1500, 2012-present Nissan NV2500, and the 2012-present Nissan NV3500.
Speak With A Specialist Now
Habla con un especialista ahora
Use The Search Tool
Verify options in the form for a quick search