Find your 4.2 Liter engine
Flat Rate Shipping (Commercial address)
Up to 5 Years Unlimited Mile Warranty
Excellent Customer Support
Ford Mercury 4.2-liter-ford-mercury Engines Variations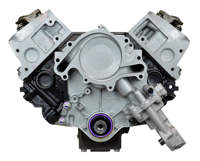 Best Price Guarantee
We will match or beat any
competitor's pricing.
ABOUT REMAN ENGINE
4.2-Liter Engines: The 4.2-liter V6 engine produced by Ford is the largest version ever variation of the Essex engine class. This version offered a longer stroke with the same 12 valves and pushrods. This Ford 4.2 engine was used in their production vehicles from 1997 till 2008. It should be noted that there was an industrial version of this engine which was produced under the ESG-642 designation and was offered as a 4.2 Ford crate engine for sale.
4.2 Essex V6 - Being the largest version of the Essex V6 engine class, it is only fitting that it makes the most horsepower and torque with ratings of 205 hp and 260lb-ft of torque. This engine notably had a bad wrap because all of the 1997 and 1998 models had bad front gasket covers but this issue was fixed in later years. The 4.2 Essex engine for sale was found in the 1997- 2008 Ford F-150, 1997-2008 Ford F-250, 1997-2003 Ford E-150, 1997-2003 Ford E-250, 2004-2007 Ford Freestar, and the 2004-2007 Mercury Monterey. This engine is essentially the same as the 3.8-liter V6 Essex engine and even has the same bore diameter. The major difference between the two is that the 4.2 Ford engine has a lengthened stroke which gives it its increased engine size.
Speak With A Specialist Now
Habla con un especialista ahora
Use The Search Tool
Verify options in the form for a quick search