Find your 4.2 Liter engine
Flat Rate Shipping (Commercial address)
Up to 5 Years Unlimited Mile Warranty
Excellent Customer Support
Jeep 4.2-liter-jeep Engines Variations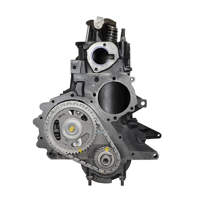 Best Price Guarantee
We will match or beat any
competitor's pricing.
ABOUT REMAN ENGINE
4.2-Liter Engines: The only 4.2-liter engine ever used by Chrysler was that of the 258 cubic-inch AMC engine. The 258 AMC engine is also known as the Jeep 4.2 engine as well as the Jeep 258 engine. It was produced in 1971 and remained in production for nearly 2 decades until 1990.
AMC 258 - The Jeep 258 AMC engine was commonly found in the older CJ jeeps, used as a Jeep CJ-6 engine, a Jeep CJ-7 engine, and a Jeep YJ engine. These 4.2-liter Jeep engines were also used in the Jeep Comanche and Wagoneer. The AMC 258 was an inline 6-cylinder engine that was rated at approximately 190 hp and 225lb-ft of torque for most of its lifespan. It should be noted that there are two main generations of the AMC 258 engine that was for sale. The first generation of the engine ran from 1971 till 1981. In 1981 AMC updated the engine to make it lighter by giving it a new block casting as well as an aluminum intake manifold as compared to the older cast-iron intake manifold. Keep in mind that the two engine generations were pretty much the exact same internally.
Speak With A Specialist Now
Habla con un especialista ahora
Use The Search Tool
Verify options in the form for a quick search